CDMX - At AdWeek Latam, held in Mexico City in February, Mexican designer Lorena Saravia gave a speech on "The complexity of start-ups in retail", where she described the progress of her brand over the 10 years she has been in business. Today, three of the designer's brands are located in key points of sale in the country, such as Liverpool department stores and Palacio de Hierro, as well as her own 130 square metre flagship store in Av. Masaryk. But she says that it has not been an easy journey and that, although the situation has improved over the years, physical retail remains a challenge for the fashion industry.
"I started without any idea of what a start-up or a business was and didn't have a retail business plan for Mexico and Latin America," she says. Saravia registered her brand ten years ago, but it wasn't until an investment fund showed an interest in the firm four years ago that brand has been steadily growing. Saraiva says that she intended to consolidate a fashion brand in Mexico using all the country's distribution channels. She wanted to control it nationally at first and then to look for opportunities outside the country and have a fashion brand that represented Mexico at an international level.
Although today her collections are sold in the country's major department stores, the designer's idea proved to be more complex than she had imagined. She explains that one of the main challenges facing national brands is that, although department stores are willing to promote national talent, they also have exclusivity policies that limit a brand's expansion.
"We gradually found a way of designing products for each distribution channel by creating three brands", explains the designer. This is why Lorena Saravia, best known in México for affordable luxury, now also has Twigg, an athleisure range; and Cult, an 'easy fashion' brand with items based on original designs on the Lorena Saravia brand, but suitable to produce in the volumes required by a department store like Liverpool. With these three lines, the entrepreneur also finally managed to overcome the initial obstacle posed by selling in department stores.
The next retail topic that Lorena spoke about is the message to be transmitted to customers through these points of sale. "My main goal was to offer a contemporary fashion message at an accessible price point. The whole message of the brand should be visible on the rack and this is what we tried to do at each point of sale. Then we realized that what attracts customers the most on the sales floor is a lifestyle." With that in mind, the designer thought about her customer and calls her an all-round woman. Points of sale should reflect that personality. This definition of the customer in the store also influenced the design of the three brands that are now part of the Saravia company. "We rolled out this philosophy to give our Mexican customers what they are asking for."
Saravia says that the biggest challenge of trying to sell a Mexican brand in national retail stores is upscaling production volume. She explains that although in Mexico mass production is easy because raw materials, machinery, distribution channels and customers are all at hand, it's still complicated to find channels that can produce at a designer level. That is why she designed the Cult line especially to overcome this obstacle and to maintain a constant volume of production to provide clothes to all Liverpool stores in the country.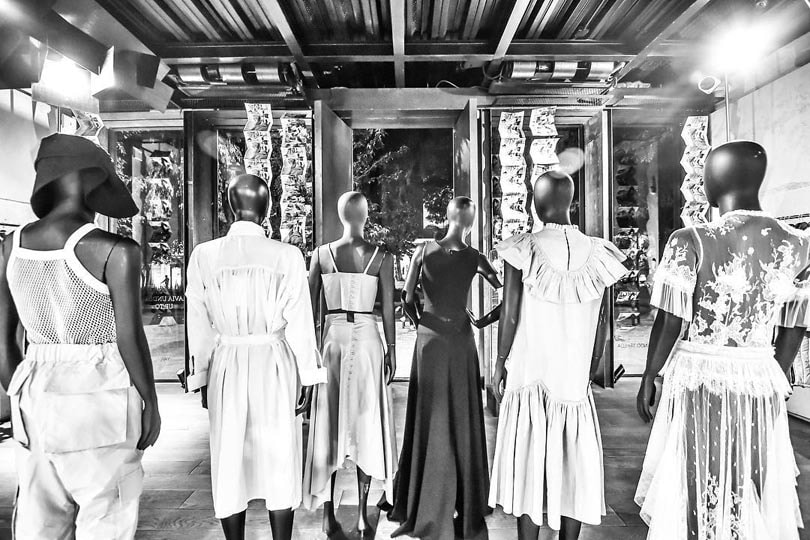 The complexity of the retail business
Department stores have become great allies of the designer for the growth of her brand. But she stresses that every day new challenges arise which make doing business highly unpredictable.
"You have to realize that there are a lot of things you cannot control," explains Saravia, referring to the little things that happen in the store like how the products are distributed on the shop floor and how staff move the merchandise. "What is difficult to understand with department stores is that, although they work incredibly well it can be very complicated to translate your vision to the shop floor. Even if you provide clear instructions, passing on that information proves very difficult."
Saravia emphasizes that, as a contemporary designer, retail in stores is a very aggressive business, but at the same time it offers many opportunities and allows companies to realize who their customers are and what interests them. "The big department stores in this country have many positive aspects, such as enabling you to reach many people, obtaining a lot of retail space and organizing many promotional activities with them and really connecting."
The designer, who has been working in the fashion industry for 15 years, ended her speech with the positive note that her brand is the same since the very beginning and she has therefore fulfilled her initial objective: to successfully build a fashion retail business in Mexico, and to control, organize and understand it. However, she says that she has learned a lot from this process, mainly that physical retail does have a high return on investment, but that it can take 5 to 10 years to really reap the benefits and "riding out those 5 to 10 years is tricky for any fashion brand."
Global Fashion Stories shares inspiring stories from fashion entrepreneurs around the world, as FashionUnited believes fashion professionals can inspire one another, no matter who they are or where they are from.
Photo credits: Facebook Lorena Saravia