India's garment industry employs about eight million workers, of which 70 percent are women. The top ten garment importers from India are the United States, China, the United Arab Emirates, the UK, Germany, Bangladesh, Italy,
France, Spain and Turkey. Though garment exports grew by a sturdy 18 percent from 2008/2009 to 2011/2012 to 12.95 billion US dollars, India's textile exports grew by a staggering 83 percent in the same time period and have reached a volume of 18.75 billion US dollars. Top competitor China witnessed a four-fold increase of its garment exports since 1990 and other strong garment exporting nations like Bangladesh and Vietnam witnessed much higher increases than India.

Textiles vs. garments
So what's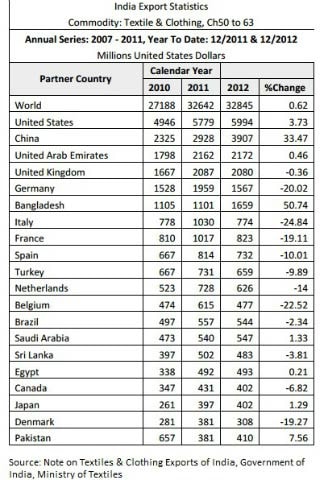 holding the growth of India's garment sector back? Two reasons are that the sector is largely unorganized and that big factories are avoiding consolidation of their capacities in fear of union militancy. "The growth in India's share in global textile and garment trade is inversely proportionate to the share of unorganised manufacturing in these segments. Stringent labour laws, among others, have prevented investors from scaling up garment businesses in a big way. These have led to apprehensions that the bigger you grow in size, the more difficult it is to run the businesses. Since garment is the most labour-intensive sector after agriculture, the impact is felt more in this segment than in some other textile segments," explained DK Nair, secretary-general of the Confederation of Indian Textile Industry (CITI).

It is industry-friendly policies (and infrastructure) that have catapulted China and Bangladesh ahead of India, with flexible labour rules, subsidised power, lower credit costs and better port and other infrastructural facilities being among the biggest draws according to SP Oswal, chairman of the Vardhman Group, India's largest textile conglomerate. "In India, the overall system which helps exports grow in a country, is lagging," he stated.

Cities vs. villages
Another problem is costly production in cities rather than rural areas. "Worldwide and even in Asian manufacturing destinations like Vietnam, Sri Lanka, China and Thailand, manufacturing takes place in villages where cheap labour is available in plenty. Only in India the industry got concentrated in cities like Mumbai, Bangalore, Ludhiana and so on. So the only way for the future is to go to the villages," advised Subhash Tiwari, director of textile and readymade garment manufacturer Shahi Exports Private Limited.

Add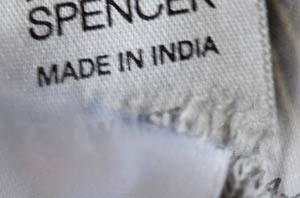 to that Bangladesh's low wages and bilateral treaties with EU nations that enable sourcing without import duty (currently at 14 percent in India) and India is hard pressed to keep its position as the world's third largest garment exporter. However, higher wages and production costs in China and lacking safety standards in Bangladesh have seen purchasing destinations being diverted to India. Considering the sliding rupee compared to the US dollar (and the euro), and the order situation does not look bad at all but has been steadily increasing. Also, India has been shifting focus to non-traditional markets like Latin America, southern and western Africa, Japan, Russia, Israel and Australia to expand its export reach. All these factors have led the trade bodies to expect a 15-17 percent increase in the current fiscal year for garment exports.

Indian garment producing hubs
In terms of concentration, India has about ten major garment producing hubs that specialise by types of garments and variety of products manufactured. Tirupur in the south in the district of Coimbatore in Tamil Nadu is known as "t-shirt town" because of its roughly 1500 knitwear garment producing units. Delhi, Noida and Gurgaon in the country's north have emerged as major sites for the production and export of readymade garments, mainly for women and children; Indore in Madhya Pradesh and Ludhiana in the northern state of Punjab are also known for their readymade garment production. Other garment centers may specialise in accessories like buttons, zippers and lace.

Bareilly in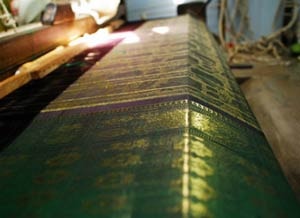 the northern state of Uttar Pradesh is known for its intricate embroidery done by hand - sought after the world over - especially zari work, the intricate gold thread embroidery that adorns festive wear from bridal garments to Bollywood garb. "The turnover of zari production is around 175 crore rupees (28.3 million US dollars). The main market for it is in UAE, Europe and the US. Exporters from there [abroad] do get their manufacturing done from here [India] and export it to other countries too," said Bareilly exporter Gopal Agarwal.

Child labour vs. education
Unfortunately, zari embroidery is also one area where child labour is rampant – because of their small, nimble fingers, children are sought out especially for zari work,usually under cramped and suffocating conditions. "Children spin thread/yarn, embroider, sew beads to fabric and stitch soccer balls," confirms the report "2012 Findings on the Worst Forms of Child Labor" by the US Department of Labor. "In addition to working long hours in cramped spaces with poor lighting and inadequate ventilation, children in manufacturing may be exposed to harmful chemicals and dangerous machinery and tools. Such occupational hazards are known to cause joint pain, headaches, hearing loss, skin infections, respiratory problems and finger deformities," finds the report.

Though education is free and compulsory until age 14 in India, the situation is similar to Bangladesh where many parents simply cannot afford to pay for school books, uniforms and the like and are thus forced to discontinue if not all their children's education then often at least their daughters'.

English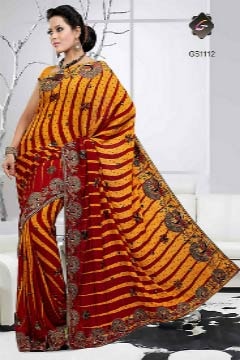 is seen as a means to better one's career prospects and though Hindi is the government's official language, English has the status of a subsidiary official language and is used extensively, especially in business, administration and higher education, giving India an edge over China and other Asian countries in terms of international business communication. Even everyday Hindi, Gujarati, Marathi and any of the other 21 official regional languages is freely interspersed with English words and phrases, making communication a bit easier even at the factory level.

In summary, India is still second to none when it comes to variety. With their myriad of colors, styles, patterns, fabrics and embroidery, Indian garments are a visual and tactile delight. Once trade bodies like the Apparel Export Promotion Council (AEPC) put their suggested measures like a duty credit scrip, focus on non-trational markets and discouraging cotton yarn exports into place, Indian apparel exports have the potential to one day outshine textile exports.

Simone Preuss

Images: zari border on a silk sari / Chandrachoodan Gopalakrishnan; intricate sari / 1first lady