Swiss sporting goods retailer Intersport and Chinese internet giant Alibaba's Tmall unveiled on Tuesday a co-branded store in Beijing complete with interactive features "to offer consumers in China a more engaging and informative shopping experience" according to an Alizila news release.
"We believe Tmall is the ideal partner in our endeavor to further our engagement with Chinese consumers by providing them the best-quality and most-fashionable sports goods in the market," commented Intersport's CEO Victor Duran.
Named "Tmall x Intersport," the new futuristic megastore takes up 1,300 squaremeters over two storeys right at Beijing's popular shopping area Qianmen Street. It follows a tech-driven retail model, which was pioneered by Alibaba in 2015 to capture the best of online and offline shopping experiences.
Tmall x Intersport = megastore
Accordingly, at the grand reopening of the Beijing store on Tuesday, customers were welcomed by an array of state-of-the-art technologies and augmented reality-powered interactive games. Examples are the Smart Shelf and the Smart Shoe Mirror, which tell customers instantly all the information they need about a certain shoe they pull from the shelf.
"This way, the customer can make a more-informed decision on whether or not the products fit their individual demands," explains the company. "These new in-store technologies provide consumers in China an unprecedented shopping experience that is both entertaining and educational so they can have fun while shopping for the exact products that meet their unique demand," added Duran.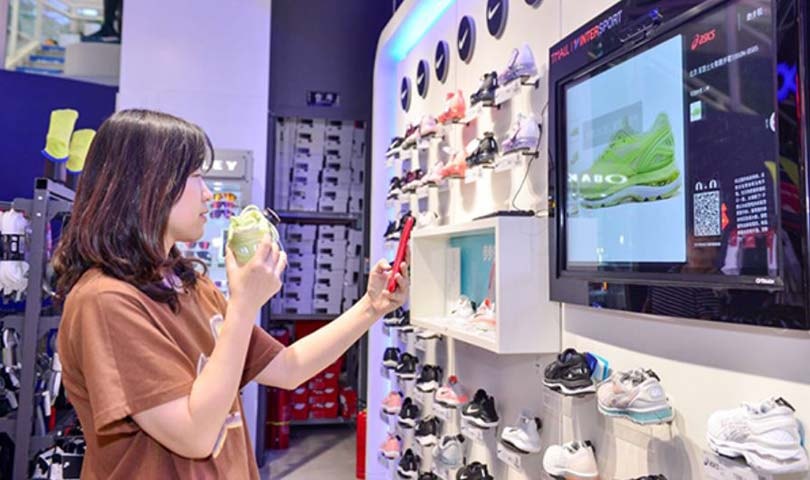 New Retail is claimed by industry watchers as the solution for brick-and-mortar retailers who feel the squeeze from e-commerce. Thus, retailers can use the power of engaging technologies to attract more customers through both online and offline channels. In addition, these technologies can generate insights that help them gain a more precise view of China's market trends and customer preferences.
Online and offline as the future of retail
"We are excited to see an extensive range of Tmall's New Retail technologies and features under one roof in Intersport's store," said Jessica Liu, president of Tmall Fashion and Luxury. "What's even more encouraging is to see our merchants embracing the New Retail concept and exploring its potential. When customers try out these features firsthand, we are confident that they will see the convergence of online and offline shopping as the future of retail."

Intersport made its foray into China in 2013 and opened its Tmall flagship store in September 2016. At the moment, the sporting goods retailer has 24 stores in China with the goal of expanding to at least 100—a combination of bigger flagship stores in major cities and smaller specialty stores—in the next couple of years. "It makes sense to have Tmall technologies to be the link to connect all the stores together," said Duran.

Intersport is the latest example of how Alibaba's New Retail technology is helping international brands build up and reimagine their business in. To date, Tmall Fashion has collaborated with over 400 brands, among them such diverse yet well known brands as Burberry and Zara, and upgraded over 50,000 storefronts all over China. Liu further said that the goal is to increase the collaboration to a total of 1,000 brands and to help digitise 200,000 storefronts nationwide in the next 12 months.

Photos: Alibaba Group