The men's workwear uniform has changed. The era of strictly suits and ties for an office environment is long gone. Just look at the boys of Silicon Valley. The thought of them dressed as banker types is virtually laughable.
Joe Sadler, men's design director for Bldwn, like any sensible designer, took notice to how men nowadays were dressing and interpreted that for Bldwn men's fall/winter 2019 collection. "This season was about 1960s New York, it's American workwear reinterpreted," Sadler said to FashionUnited. "So we were looking at subcultures in music and all of the arts. Think Lou Reed, Velvet Underground, Patti Smith and Debbie Harry."
Wearability was the essence of this collection, as designs were approachable, with the goal of being refined, but relaxed. Sadler's goal was functionality. To that end technical features of design included water repellant coatings and unexpected details like hidden zippers and logos under snap buttons.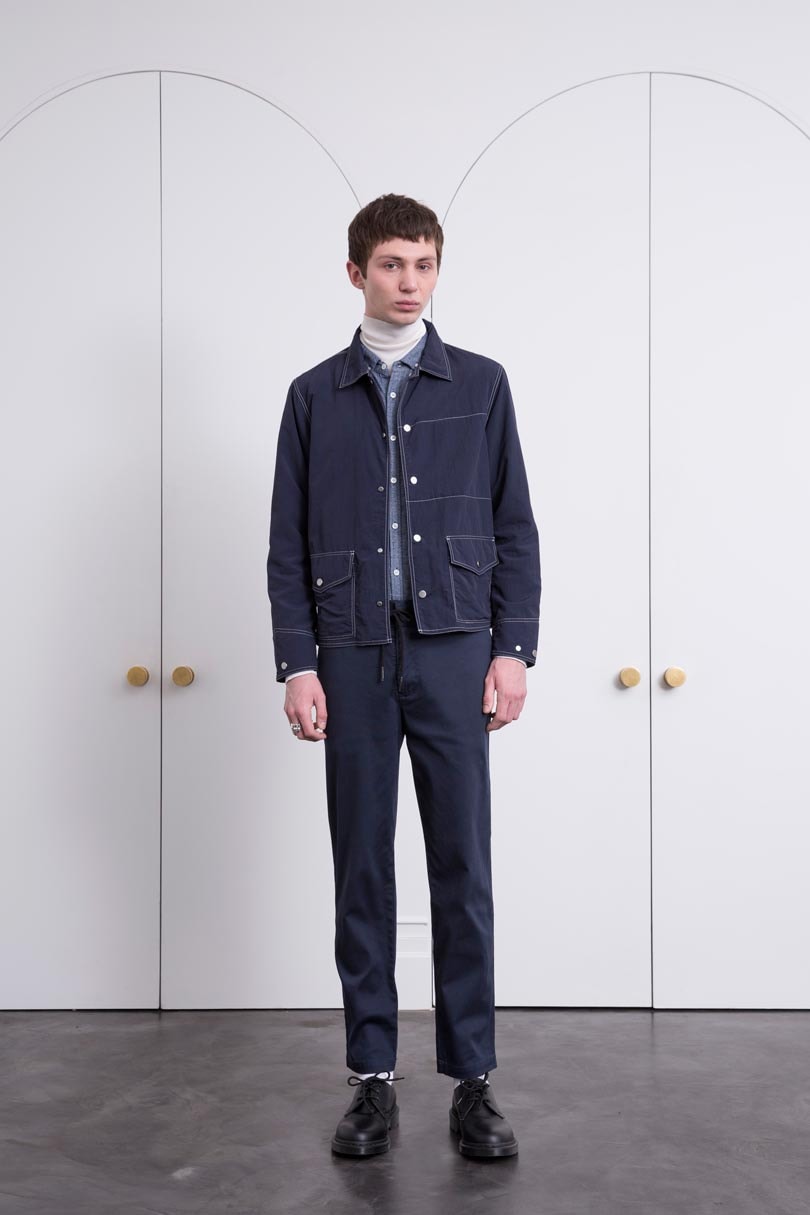 At the core of Bldwn's brand DNA is authentic American denim, all cut and sewn in the United States and sourced from Japan. Washing was subtle and minimal, given the brand's commitment to denim authenticity and the American spirit.

Sadler was inspired by the sixties, because he's a musician as well, and while he was coming up with ideas for the next collection he was listening to Lou Reed. He was also inspired by the Warhol factory. His design process happened organically and he says it just seemed right at the moment.

As for why he opted for a workwear inspired collection, Sadler told FashionUnited, "Workwear has always been such a pillar of menswear and always has been and always will be. Recently you've seen designers like Watanabe designing collections around actual modern workwear. Security guards, policeman, firefighters. Designers are using neon fabrics and reflective materials. In that same vain and in a more wearable approach, I'm trying to do the same thing and recognize these utilitarian uniforms are here to stay."

Going forward, Bldwn is building on the concept of denim dressing. The brand's foundation has always been in denim, and they still retain that as part of their eternal aesthetic. Their menswear collection is expanding into suiting separates adding jackets and trousers, although they don't intend to do full suiting at the moment, but more so pieces that can be paired with indigo denim.

Men's wardrobe staples are changing, but Bldwn is on top of the movement. It's been a strong and mighty transformation for the brand, but a strategic one that is working in their favor.

photos: courtesy of Purple PR