Leading the way for digital innovation within the fashion industry once more, luxury fashion house Burberry has announced the launch of a new global partnership with Line, mobile app corporation, to offer the live stream of its upcoming Prorsum Women's Wear show directly from London exclusively to Line users in Japan.
The heritage label aims to use the real time technology to bring its users closer to Burberry, as part of it new strategic plan in the country, which includes to replacing the brand's licensed products with its global product offering.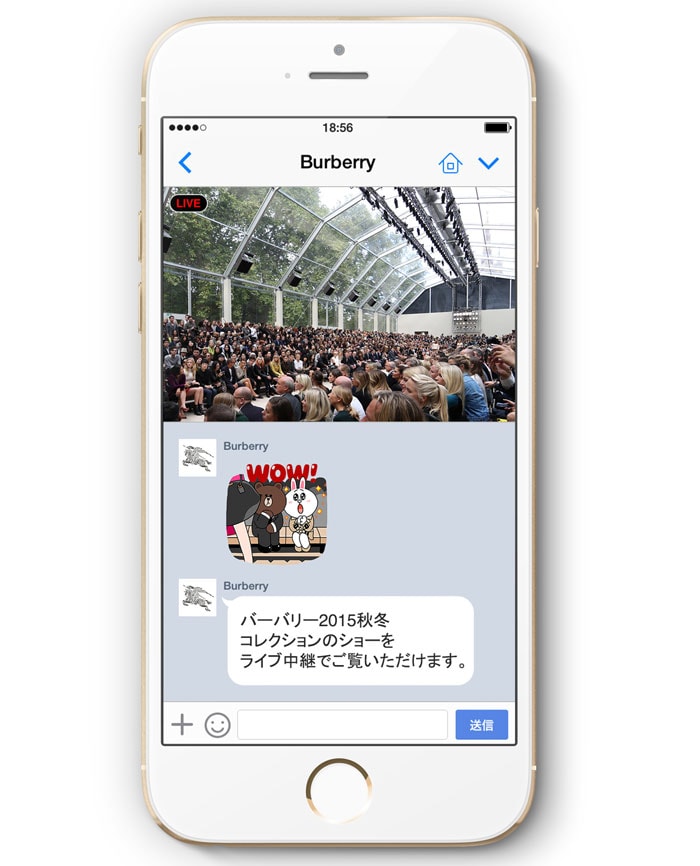 "I am delighted that we are working closely together with Line - a company we have long admired for their innovation and creativity. This exciting collaboration will help us share our rich heritage and culture of design by building a very personal relationship with audiences in Japan," commented Christopher Bailey, Burberry Chief Creative and Chief Executive Officer.
Burberry to live stream AW15 Prorsum with Line
Users of Burberry's Line official account will be able to live stream the Burberry Prorsum Autumn/Winter 2015 Womenswear runway show from London Fashion Week on February 23. By using the mobile live cast functionality, viewers in Japan will be able to experience the show in real time.
"We are extremely pleased to be recognized as a powerful and stable platform by Burberry, one of the most innovative global luxury brands, and to be able to partner with them to achieve a variety of initiatives," added Akira Morikawa, Line Chief Executive Officer.
"This is a huge step for Line as it continues to grow its brand and expand globally. We look forward to working with Burberry to provide users with uniquely enjoyable and revolutionary experiences achieved by connecting an increasingly smartphone-oriented fan base with one-of-a-kind luxury fashion available both in-store and online."
In addition to the live stream, Burberry has teamed up with Line to develop a series of Cony and Brown digital stickers, with both characters dressed in iconic trench coats and cashmere scared, which are exclusively available to Line users in Japan from the middle of February. The new partnership is a continuation of Burberry's aim to remain on the cusp of technological advances within the fashion industry.
Last season saw the luxury fashion house sell the nail varnish used in its Prorsum catwalk show directly to Twitter users, whilst Burberry partnered with WeChat for its Autumn/Winter '14 show, giving users the freedom to unlock exclusive content and looks from the show.