Christopher Raeburn is an extraordinary designer. The main reason for this is that the British designer has based his work on a philosophy that rests on three pillars: Remade, Reduced, Recycled. Ever since the label was founded, he has relied on materials that have been discarded elsewhere. He uses military waste materials in particular, for example old fatigues and parachutes. Because his aesthetics and philosophy carry such a clear utility look while offering an exciting approach to sustainability at the same time, he is in great demand for collaborations. Most recently, he worked with Timberland and designed a joint collection with the US company that is best known for its boots. Part of the main collection are 17 pieces as well as 11 limited edition styles, including short and long sleeve t-shirts, crewneck sweatshirts, hoodies, joggers and cargo pants as well as various outerwear styles. The collection is available in military-inspired colours and camouflage graphics with modern colours like Ocean Blue, Black and Molten Lava Red, and is expected to be available from end of October onward.
At the booth at Bread && Butter by Zalando, where the Briton presented his collection for Timberland, visitors themselves were allowed to be active. FashionUnited met Raeburn during a bag sewing workshop where he explained the craft to visitors on the sewing machine. Next door, visitors could design t-shirts and plant terrariums with succulents. We sat down on the specially displayed turf and talk about collaborations, sustainability and the new generation of consumers.
Are you happy with the implementation of the booth concept and the workshops?
Christopher Raeburn: Yes! I think it's great to see how working with their hands calms people down. They take time for these things - something they may not do often otherwise. I wanted people to be able to take something away with them.
What was your collaboration with Timberland like?
Timberland liked my approach and my design philosophy. They have given me a lot of freedom in designing and wanted to see what I can bring to Timberland from my world.
How did you approach the project?
First, I looked at the archive and used original Timberland products from the 80s, 90s and 2000s, deconstructed them and turned them into new pieces. So the pieces you see here are all either remade, recycled or reduced - they are exactly part of my philosophy.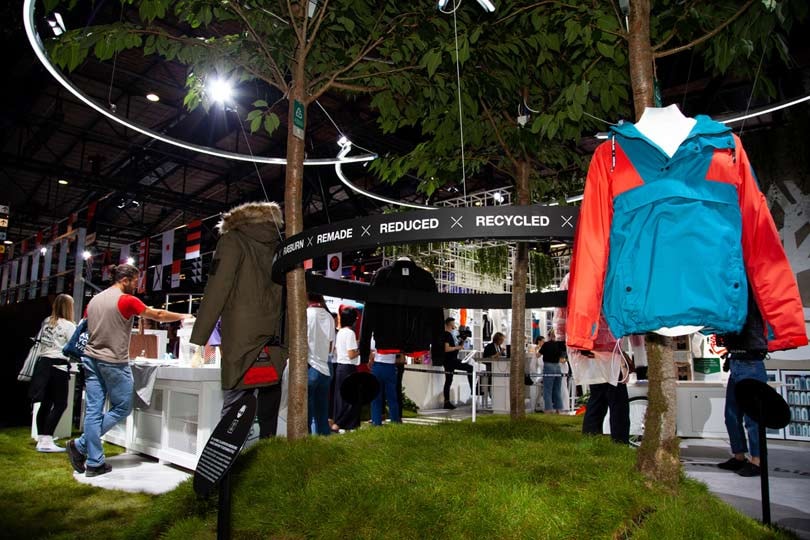 What is the most fascinating thing for you about recycling?
I find it most fascinating that we are not far away from closing the loop. I find that very exciting. Also the interest, especially by the new generation, is much bigger for these topics. We ask a lot more questions about where our clothes come from and where they go when we no longer wear them.
My company is relatively small, which is why I find the collaboration with such a large company like Timberland very exciting. I hope we can work together to find solutions to this massive problem. We humans produce billions of things every day. This cannot continue in this way.
What are the biggest challenges when it comes to the recycling of clothing?
That blended fabrics, polymers, cannot be separated. That's why I focus on using pure materials in my designs. For example, I make articles out of recycled PET that can then be recycled. Polycotton, even if it has great properties, is also such a problem as the polymers can not be separated anymore. That's why we make sure that in our jerseys, for example, we only use organic cotton. We try to avoid blended fabrics.
How does sustainable consumption fit into a festival of consumption like this one?
I think one can use events like this to inform people. It should not be about preaching to people. But if you make a cool design and it's even sustainable, then there's no reason not to want that. I think that if we let people know why sustainably or responsibly produced articles have a higher price point than others, they will understand that. This works very well at such events.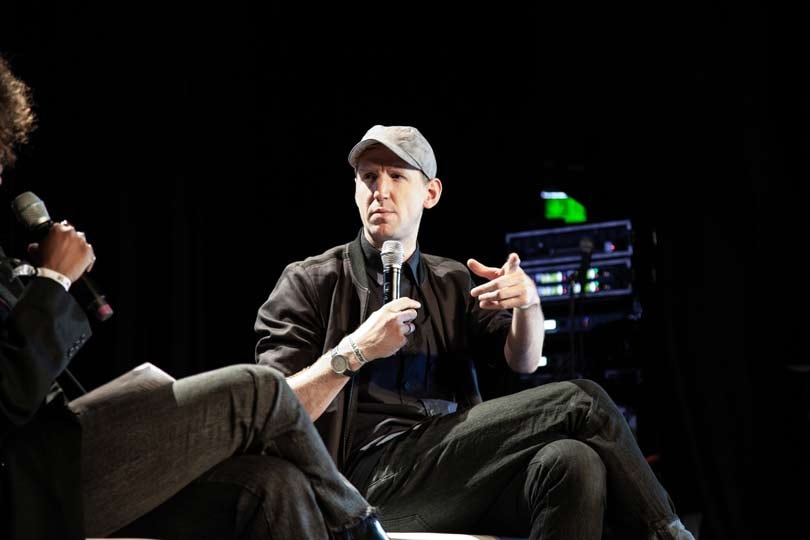 Choosing someone who works conceptually and sustainably means making a statement. Why do you think Timberland decided to do its collaboration with Christopher Raeburn?
This booth illustrates this quite well. It is so different from the neon-lit, noisy booths next door. I think the kids and visitors who are here appreciate that. Timberland has sales of 1.8 billion US dollars annually. If you can work with such a company and make a difference on a global scale, then that's really worth something and I think it can help.
What is next at Christopher Raeburn?
We have many plans for the coming year. Our studio space in London, the Remake Space, is open to the public. We see it as a laboratory and organise workshops and events. We're also celebrating our tenth anniversary, which is a bit crazy. I am 36 years old. But I actually see this as just the beginning.
This article was originally published on FashionUnitedDE. Translated by Simone Preuss.
Photos: Timberland