London - Dr. Martens has issued an urgent recall for over 30,000 pairs of boots in its Vegan range which may pose a potential health hazard.
The brand is urging all consumers to return its 1460 Vegan boots in Cherry Red and Purple, after discovering that a textile used in the lining of the tongue of the boot made in a factory in Vietnam contained traces of the chemical benzidine.
The amount of the restricted chemical found in a small number of boots was above the specified limits and may "present a potential health risk under certain conditions," wrote the company in a product recall. "As the impacted products do not meet required specifications, we are recalling them and are asking customers to return them to us for a full refund or a replacement," added Dr. Martens.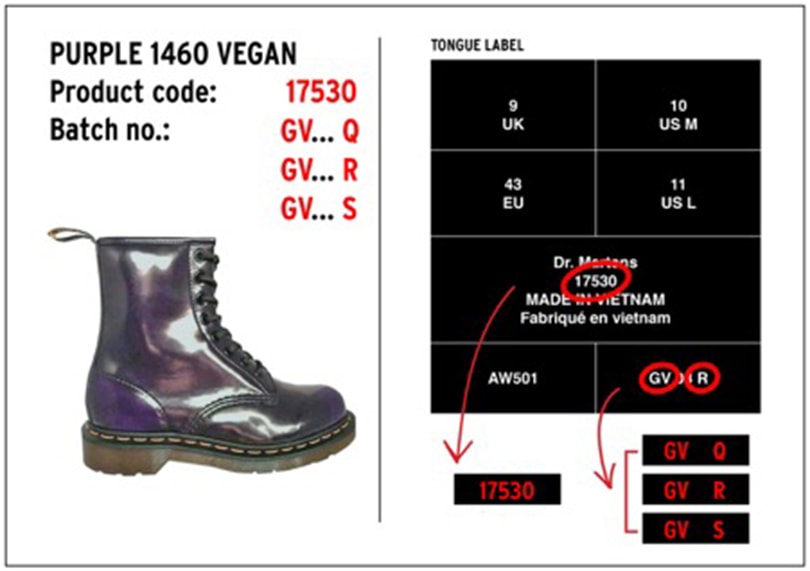 Consumers are urged to check their Vegan boots in the noted colours purchased between January 2015 and 2017 tongue label for product and batch numbers. All boots in Cherry Red and Purple with the batch number 14585 and 17530, batch number GV...Q, GV...R and GV...S are urged to return their boots to a Dr. Martens store, or arrange a refund or replacement online as soon as possible.
"In making our product we pride ourselves on setting the highest standards and are disappointed that they have not been met on this occasion," concluded Dr. Martens. "We are sorry for any inconvenience caused, but hope you'll understand that customer safety and the integrity of our products is our highest priority."