Eurovet Americas continues to lead the Intimate Apparel industry by creating a platform for the key players in the business sector. This year, CURVENEWYORK will develop an environment rich in innovative brands, informational sessions on important topics in the industry, and an exploratory area of trends. The Intimate Apparel market is transforming, and Eurovet Americas stands at the forefront by adapting CURVENEWYORK to suit the needs of retailers and brands.
Celebration of Yourself
Consumers desire to live in a garment that celebrates their best assets and displays the best parts of their personalities. To adapt to this mindset, intimate apparel brands have begun to offer multifunctional, elegant and timeless products. It is essential that brands understand the consumer's mindsets in order to design products that suit their identity and can be worn with pride in their daily lives.
This February, Eurovet Americas in collaboration with Kimmay Caldwell (Founder of Hurray Kimmay + #MoreThanMyNumbers), will present a panel discussion discussing the general topic of inclusivity to build on the conversation beyond size inclusivity and body positivity. Topics to be considered will include how the industry is addressing a broader range of people with a focus on factors such as age, gender, race, and size. Attendees will gain insight into how brands are adapting their products and messaging to appeal to a wider audience.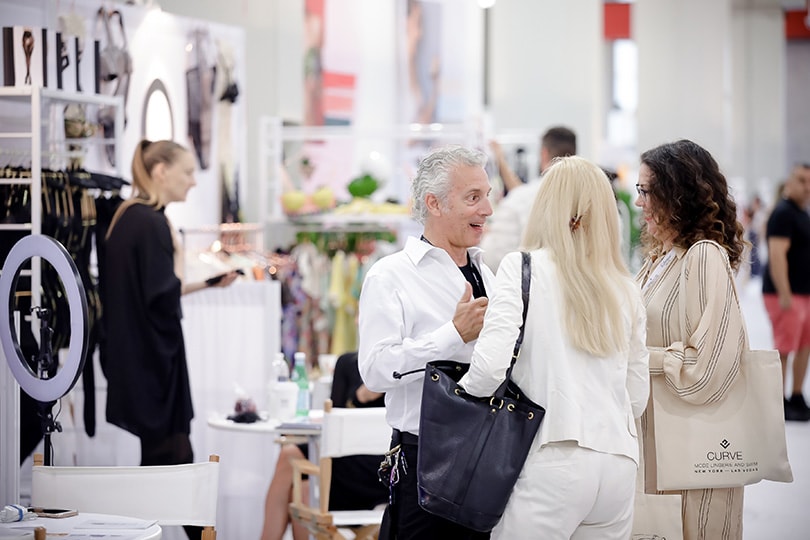 Neu German Pavillon
CURVENEWYORK will expand its international offering of brands and launch the German Pavillon this February, in its efforts to diversify the product selection for attendees. The international brand discovery section on the show floor will include brands such as Anita, Falke, Mey, Roesch, Susa, Triumph and Vossen
Chantelle, Designer of the Year
CURVE honors Chantelle as the 2019 Designer of the Year for its innovative and creative intimate apparel. Chantelle has been designing lingerie for140 years based on their missions of entrepreneurship, creativity and craftmanship. Over the years, Chantelle has evolved into a modern lingerie staple that eludes a chic and timeless style.
Read All About It
In efforts to bring an informational element to the show, CURVENEWYORK launches 2 exclusive events this season for lovers of intimate apparel literature.
At the peak of an important time for women as the freedom of voice and body remains a topic keeping its stride, it is exciting to celebrate Herminie Cadolle who changed the codes of femininity by freeing women from the corset and developing the modern-day bra. A presentation by Cadolle, will explore the evolution of the brand.. Following the presentation, attendees will have the opportunity to purchase a signed copy of their latest book "Cadolle, An Extraordinary Family Saga".
A celebration of independent niche luxury brands intimate apparel brands will be present in a special curated area by Cora Harrington, the Lingerie Addict Lounge. The opportunity to discover innovation at the heart of the industry will be present in this area.. Cora Harrington will host an exclusive signing of her book, "In Intimate Detail: How to Choose, Wear, and Love Lingerie"
Images: courtesy of Charles Roussell