Luxury footwear label Kurt Geiger has its sights set on a more noble cause this holiday season with the launch of its 'No Christmas Window' campaign.
Rather than splashing out on a high-end holiday window display this Christmas, the footwear retailer has decided to team up with charity Hope and Homes for Children and pledged to donate its festive holiday window funds to the charity, which aims to end the institutional care of children around the world.
Hope and Homes for Children works around the globe to ensure that one day all children will be able to grow up with the love and protection of a family. Therefore, instead of showcasing festive window displays, Kurt Geiger's UK stores will instead feature a single scarlet Christmas bauble which represents the "love for every single child."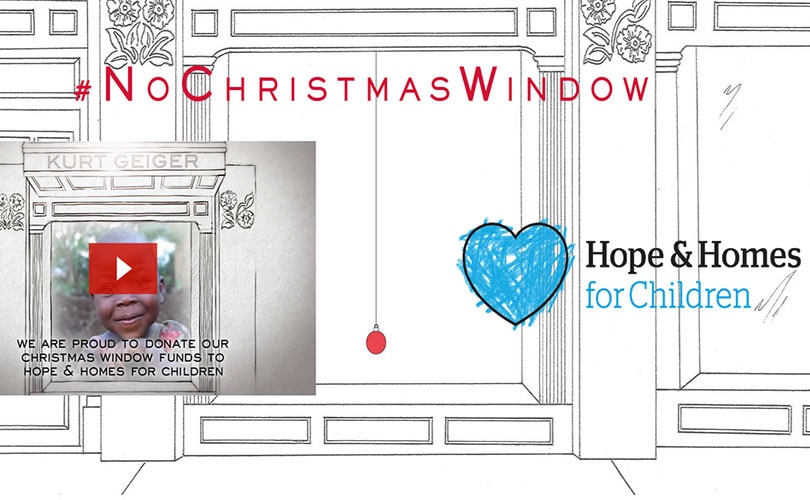 Kurt Geiger aims to "create awareness" for Hope and Homes for Children this Christmas
Neil Clifford, Chief Executive Officer of Kurt Geiger commented: "We are thrilled to support Hope and Homes for Children and unveil our 'No Christmas Window' campaign. We hope to create awareness for this incredible charity, inspire others to act and raise money to change children's lives."
Shoppers who visit Kurt Geiger's stores, both online and offline, will be asked to pledge support to the charity during checkout, by visiting the Hope and Homes for Children website at www.hopeandhomes.co.uk or texting 70070 to donate 5 pounds. The campaign is set to run throughout December, and up until December 12 the British government has pledged to double every pound donated.
"For children all around the world Christmas is a time of wonder and joy. But for millions of children confined to orphanages and institutional care, Christmas offers no hope," added Mark Waddington, Chief Executive Officer of Hope and Homes for Children. "These children have no love, no protection and no family."
"We are extremely grateful to Kurt Geiger for their support of our work and the 'No Christmas Window' initiative is just incredible. With the support of Kurt Geiger and their wonderful customers we will be able to help even more children in the future to keep them safe and loved."
This is the second initiative Kurt Geiger has launched with Hope and Homes for Children. Earlier this year the footwear retailer organized a fundraising walk in London to raise awareness for International Children's Day on June 1.