Trendstop brings FashionUnited readers a first look at the latest collections from the up-an-coming designers exhibiting at Fall Winter 2019-20's London Fashion Week.
The Trendstop catwalk team give FashionUnited readers an exclusive insight into the key looks gracing the runways of the capital's most prestigious fashion event. Amongst shows from established brands such as Burberry and Victoria Beckham, a host of new faces and young creatives added to the unique buzz and excitement surrounding the city's fashion sector. Our comprehensive catwalk show coverage, dedicated reports and accompanying galleries evaluate each trend's commercial value and longevity, giving you the best possible basis for your decision making.
This week Trendstop present three key collections from London's ones-to-watch. Across the collections of Jaime Wei Huang, Toga and Molly Goddard, functional elements and protective qualities were a key feature as a new generation of designers look to create garments that shield the wearer from the travails of modern life while retaining a playful and fun sensibility.
Jamie Wei Huang
Exam paper-style show notes, inspired by her student days were the lead up to Jaime Wei Huang's colourful collection. Playful yet practical, the predominantly unisex range featured cosy scarves and oversized knits adorned with fresh takes on caballing and fun, youthful details, layered over plaid patterned skirts and dresses.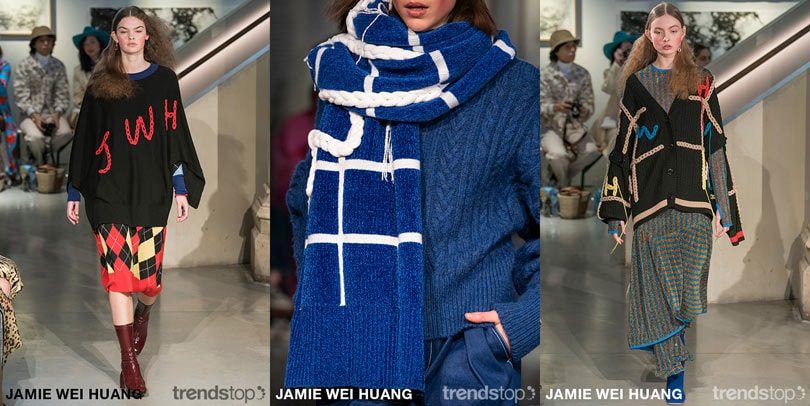 Images courtesy of Trendstop, left to right: all Jamie Wei Huang Fall Winter 2019-20.
Toga
Toga's strong outerwear showing was a highlight of a collection titled "Slightline, Cutline, Align". Blue overcoats with crescent-moon-shape brooches, deconstructed bikers and white faux leather bonded jackets with feather embellished seams were teamed with pointy-toed, coated enamel waders in varying hues. Clusters of jewels and beads as earrings or on lapels added interest to the utilitarian styling.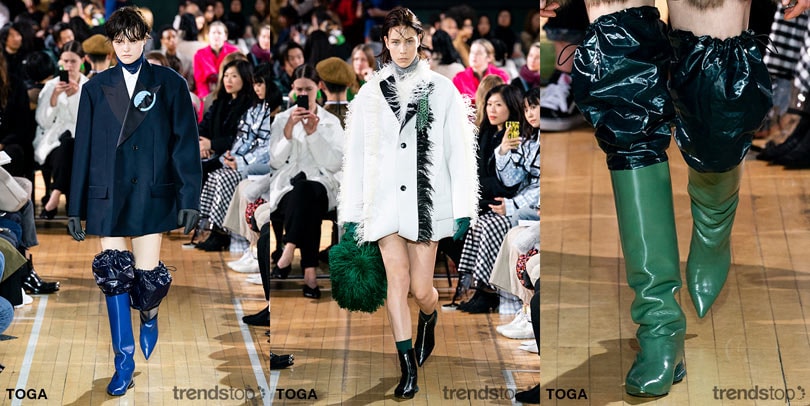 Images courtesy of Trendstop, left to right: all Toga Fall Winter 2019-20.
Molly Goddard
"Dressed for the storm" was how Goddard described her collection of patchworked Argyll knits and army green ballgowns. Heavy-duty knee boots, balaclavas and padded clutch bags lent accessories a sense of protective practicality with the designer aiming to create clothes that offer stability in uncertain times.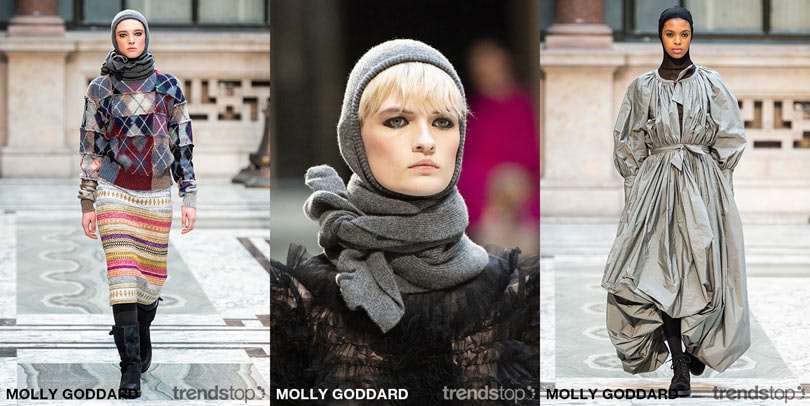 Images courtesy of Trendstop, left to right: all Molly Goddard Fall Winter 2019-20.
Exclusive Offer
FashionUnited readers can get free access to Trendstop's Spring Summer 2019 Key Coats & Jackets Directions report, featuring all the essential dress trends for the season. Simply click here to receive your free report.

Trendstop.com is one of the world's leading trend forecasting agencies for fashion and creative professionals, renowned for its insightful trend analysis and forecasts. Clients include H&M, Primark, Forever 21, Zalando, Geox, Evisu, Hugo Boss, L'Oreal and MTV.