Now what if there was a brand that only did pre-collections? That's the case for Lorod designers Lauren Rodriguez and Michael Freels who unveiled their brand's pre-fall 2018 collection at 163 Bank Street last night.
For this collection, the designers took inspiration from the American West, and the nostalgia associated with such references. Stylistic references from the 1950's rockability movement were also found in the collection and translated through with statement jackets and the usage of black in several pieces.
Helping anchor the collection came a first-ever collaboration with Manolo Blahnik; where a pair of two-toned silhouettes - a radical sling-back kitten heel and complimentary closed-toed bootie - helped narrate the brand's evolution beyond daytime separates.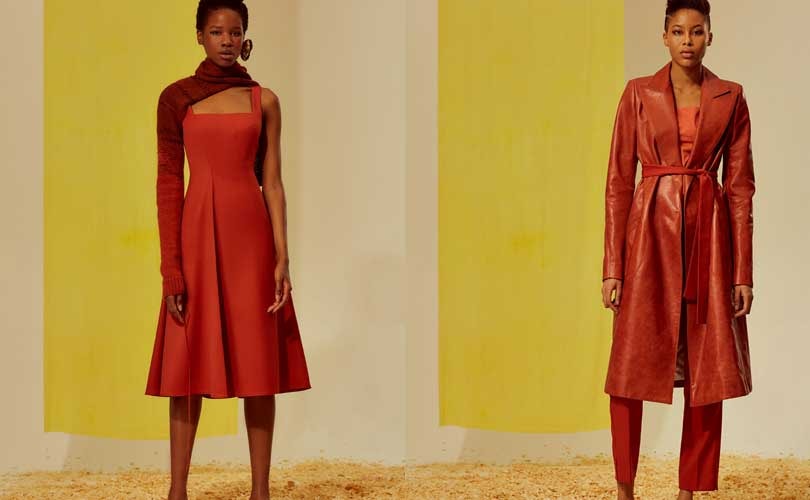 Lorod takes inspiration from the American West for pre-fall 2018 collection
Western influence was seen in patchwork prairie skirts, hand knits and denim. Rodriguez and Freels took us on a journey throughout many decades of time, rather than taking the traditional approach most designers use of harkening back to one time period.

Although the brand shows a lot of casual suiting, they don't consider themselves a workwear brand. Nor are the designers interested in trends, but, rather, they are more interested in fabrics, construction and casual tailoring.

As they continue to work on growing their business, Rodriguez and Freels feel they are evolving as designers, and their customers are as well. "Two seasons ago, our customer was younger, now I think she's more sophisticated, she's wearing a wool suit, she's wearing Manolo's," Rodriguez said.

Even though they admit they are facing the usual growing pains of any new business, they also see advantages to being a young brand. "We get to work with other people who are really young, which is really positive. Then, we have brands like Manolo Blahnik who want to work with us, because they are excited about young brands because we have new ideas," Rodriguez said.

In terms of where they want to take their business next, they are in no rush to grow too quickly. Rather, they are taking the slow and steady approach. "The track we're on is good, and it feels healthy and organic. Shoes are a big step for us, knitwear is a big step for us. We just relaunched e-commerce, and we're hoping that will be a good platform for us," Rodriguez said. "Widening distribution is also important to us," Freels added.

They might be taking a cautious approach to growth, but it's a smart one.

photos: courtesy of Purple PR