Like few others, "Beauty and the Beast" seems to be the timeless fairy tale that has inspired the fashion industry the most, doubtlessly helped by Disney's recently released live-action remake featuring Emma Watson as Belle. Christopher Kane was inspired to launch a Beauty and the Beast' capsule collection'; Disney fashion hit the runway at Amsterdam Fashion Week and Central Saint Martins students got help from the film's costume designer Jacqueline Durran to reimagine "Beauty and the Beast" in their creations.
Apart from showcasing breathtaking dresses, the main character's wardrobe in the Disney adaptation has also put those on the map who usually remain hidden behind the scenes: the artisans crafting the beautiful pieces. FashionUnited has taken a look at one piece in particular, the white bodice with an intricate flower design created in India, to show that there is more to the country's textile and garment industry than cheap labour and fast fashion.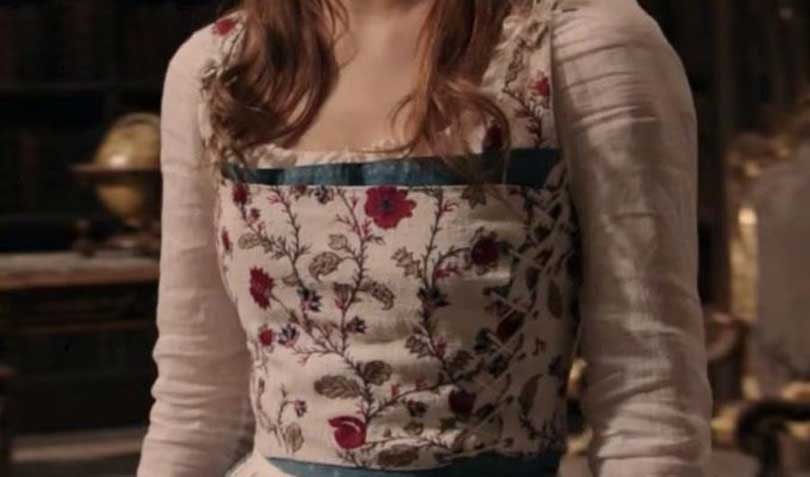 Designs made in India are far beyond fast fashion
In fact, nothing could be further from the truth - India has a long history of fine embroidery that has been influenced by a myriad of cultures, customs and religions over the ages. So much so that embroidery from every region has a flavour of its own and is so distinct that it is easily identifyable at a glance, be it Aari and Kashidakari from Kashmir, Chikankari from Uttar Pradesh, Kantha from Bengal and Orissa, Phulkari from Punjab, Persion Zardozi or Rajasthani patchwork and mirror work so popular with European tourists.
The feature film stood out for its breathtaking costumes and dresses and required a costume team of almost 100 people, which made an effort to source ethical, fair-trade and sustainable fabrics wherever possible - a fact that Emma Watson shared on her Instagram account.
The particular embroidery technique used for Belle's bodice is Aari, the traditional embroidery style of Kashmir in the north and the Kutch region of the western Indian state of Gujarat. Durran had the bodice designed and hand-stitched by Kusam and Juma, artisan brothers who live in Bhuj, Gujarat. They have learnt the craft from their late father Adam Sangar, a master craftsman, and have been practicing aari embroidery since they were teenagers.
Indian artisans are sought after
For the chain-stitch technique, which is also called crewel work after the long hooked needle that is used, the material is spread out on a frame. It involves a hook, which is plied from the top and fed by a silk thread from below, creating tiny concentric rings, which lead to a line of intricate chain stitches.
The advantage of the Aari technique is that it looks machine-made and is faster than other chain-stitching techniques. In addition, sequins and beads can be added for an even more festive look, which made the elaborate and intricate floral motifs favourites among Indian royalty. As Sinéad O'Sullivan, the film's assistant costume designer, explained in an Instagram post: "This style lent itself very nicely to this eighteenth century French floral design."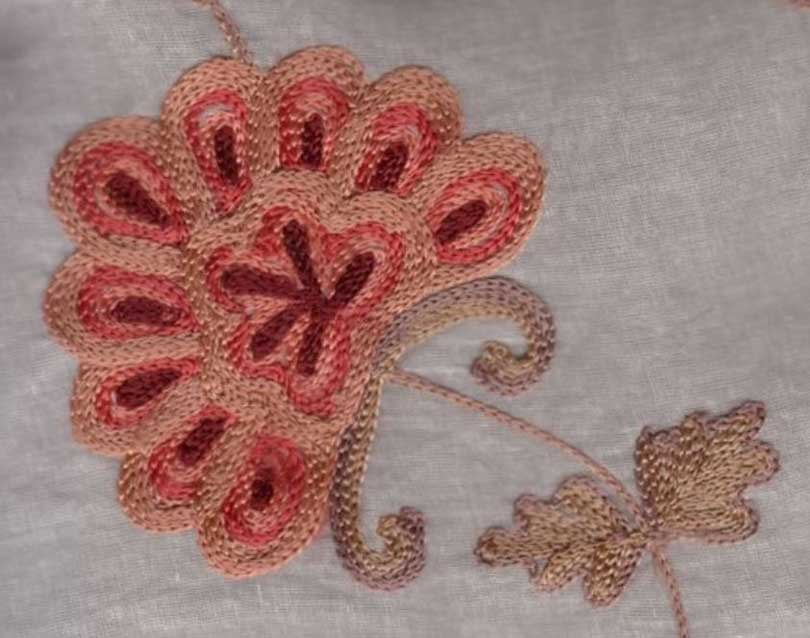 Needless to say, mastering this technique requires highly specialised skills and years of practice that do not come cheap. According to Quartz India, India is slowly establishing itself in the west as a source of highly skilled artisanal work: "With Hollywood movies and English-language TV shows indulging in the beauty of Indian textiles, the skills of the country's craftsmen are in the spotlight. Big name production houses aren't expecting Indian manufacturers to churn out a ton of cheap costumes. They're ordering one-of-a-kind outfits and paying people well to create them. Slowly but surely, the perception of the Indian handicrafts industry is undergoing a makeover."
Photos: YouTube / Disney movie trailer & Pinterest