It was going to be controversial by any interpretation, even by fashion's standards. Raf Simons this week showed his namesake menswear collection during New York Fashion Week, with a collection titled 'Youth In Motion', taking inspiration from the drug-addicted youth in Berlin in the late seventies. The film Christiane F. was a starting point, with the show notes reading: "Simons, like many Europeans of his generation, was exposed to the harrowing world of Christiane F. in high school, where the film and the book were discussed as a part of the currriculum of drug abuse and addiction.
While many laud the film as a realistic account of drug addition, the David Bowie soundtracked story has become an iconic fixture about disaffected youth, depicting the grim realities of anti-authoritatian, decayed urban silhouettes and the sinister escapes the disenfranchised are drawn towards. Christiane F. was herself a heroin junky; young, wafer-thin with dyed red hair, her 'look' has been a recurring influence in fashion shoots since the film's debut in 1981.
On a hoisted stage, models wore sleeveless hoodies printed with the slogan Drugs, latex gloves under rolled up wooly outerwear, and half-worn intarsia sweaters, with sleeves dangling on models' chests. The catwalk permeated through a mise-en-scene of a feast at its peak: half-poured glasses, empty bottles of champagne artfully arranged, and mounds of fruits - grapes, lemons - and stacked loaves of bread. Whether it echoes the opulent setting of mid-century couture salons or the peak hour of a party, where guests are significantly euphoric and in higher spirits.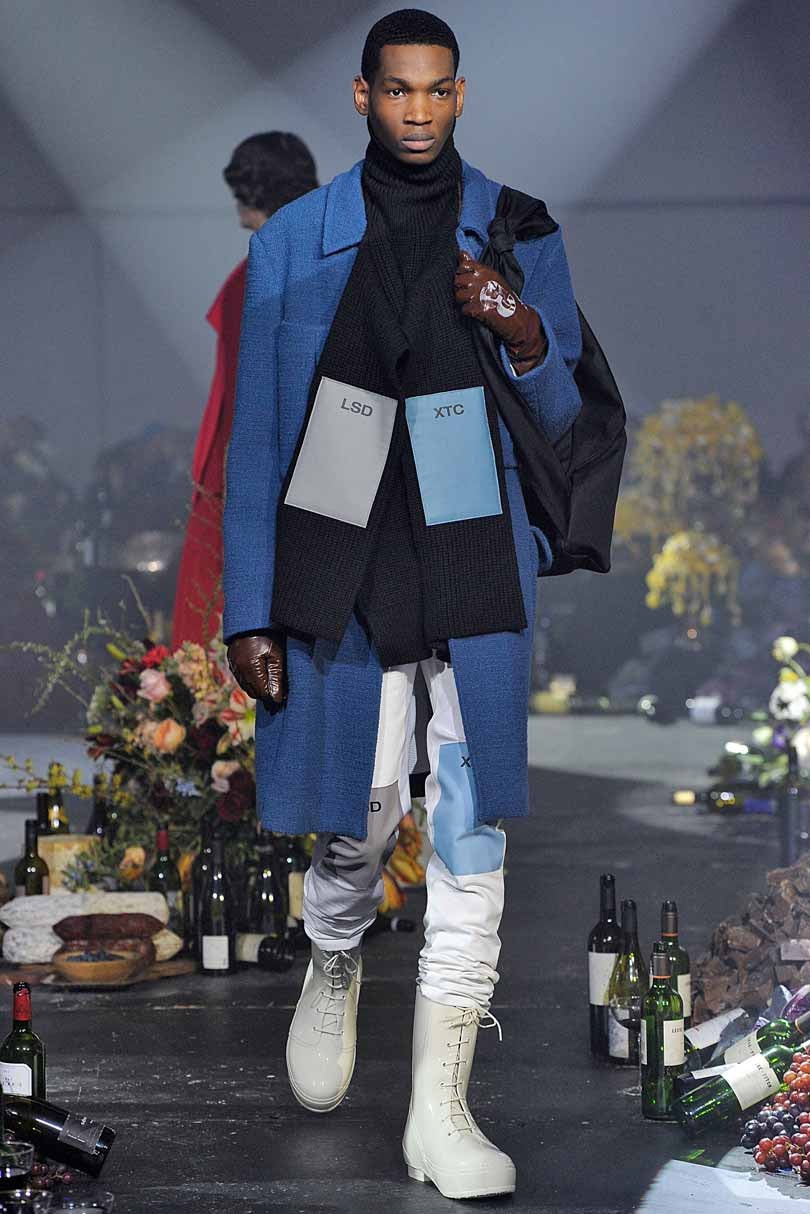 The logo'ed drugs hoodies were an ode to Cookie Mueller and Glenn O'Brien's tragicomic play from the 1980s and "served as a template for deadpan, color-coded patches listing drugs such as LSD, GHB, and 2C-B across sleeves and shins, giving the spiral of addiction a clinical anchor that was equal parts disturbing and funny," according to Dazed Digital.
The show is not a glorification of drug use
"Ultimately, 'Youth In Motion' seeks to neither glorify nor condone the culture(s) of drugs; rather Simons seeks instead to consider the persistent, almost ubiquitous presence of narcotics (prescribed or otherwise) within our society and acknowledge our often conflicted relationships with them; in turn opening up a more nuanced dialogue around the implications for a society where addiction and the causes of addiction remain largely taboo subjects, with – as both Christiane F. and the current opioid crisis demonstrate – often untold human consequences."
As for the clothes, Simons has the knack to transfer the zeitgeist into a garment. The outerwear was the strongest, coming in peacoat, parka and knee length versions. Interestingly there was not a bomber jacket in sight. Suiting came in micro checks and featured slim trousers, another strong category. Satin lined coats and parachute pants. Ultimately, the drug-emblazoned hoodies will be sold out before they even reach the stores.
Photos: Catwalkpictures