Onia, the New York-based travel and swimwear brand, recently launched a collaboration with influencer Danielle Bernstein of WeWoreWhat. Undoubtedly a smash hit, the collaboration generated 250,000 dollars in sales within the first 48 hours, with 70 percent of the collection selling through on Onia's own eCommerce site.
On the heels of the success of the collaboration, the brand has decided to tap into the men's footwear category next which will be launching June 15. "Our customers look to us as an all-encompassing brand when it comes to their everyday wardrobes, so adding footwear into the mix was the organic next step for us and the feedback thus far has been great," said Onia cofounder Nathan Romano to FashionUnited.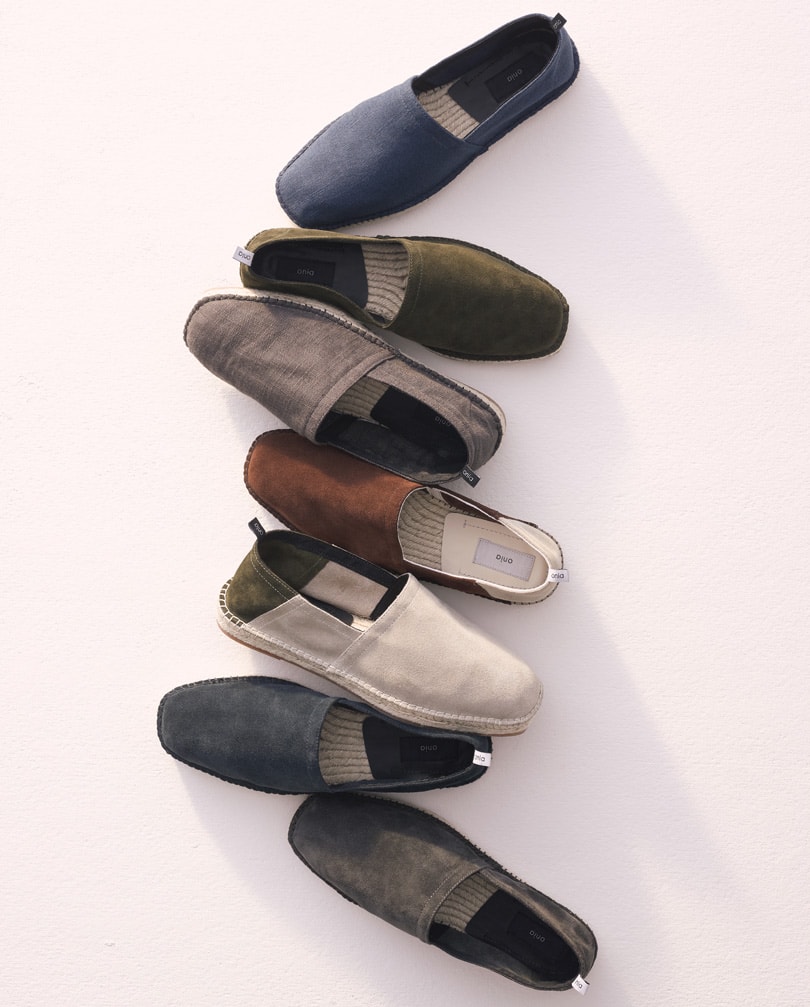 Romano originally chose Bernstein for the collaboration as they had been longtime friends. He and his partner Carl had met her when she was just starting her blog and they were launching Onia. Given that they have a similar aesthetic, Romano thought it fitting that they work on an exclusive swim collaboration together.
"I think the success of the launch was in part due to our similar aesthetics and loyal customer bases that look to us for style direction – coupled with the offerings within the collection that were new and fresh to the market and that we launched timeless pieces that would remain wardrobe staples for many seasons to come," Romano said.
Onia to launch footwear on June 15
That isn't the only collaboration that has paid off for the company. They've also partnered with J. Crew, Theory and Club Monaco for long-term collaborations which have helped increased their brand recognition.
"Identifying the right partner is key to long term collaboration success," Romano said. "We work with a variety of brands that have their own personality but that are similar in aesthetic to Onia. Creating the association with brands that we have synergy with while tapping into a similar audience base that share parallel lifestyles plays a big part in the success of these collaborations."
Footwear seemed the most logical next step for the company. "Our swimwear, separates and accessories all play into our overall aesthetic of elevated essentials for everyday wear and travel," Romano said. "Adding lightweight, comfortable footwear completes our guys wardrobes so they now really come to us as a one stop shop."
Romano acknowledges that with the growth of the brand, his customer base has expanded in different ways as well. "I think it's better to say that our customers have grown and evolved with us, not necessarily changed," he said. "When you consistently offer new product that disrupts the market, you have to make sure you're thinking about your loyal customers along the way – where are they going, what do they need and what are you offering that's missing in the market."
While Onia's revenue figures are confidential, they did see strong growth in 2017, with the swim category making up 70 percent of the women's business and 40 percent of the men's business.
The price point of the new sneaker offerings is between 125 dollars and 225 dollars. They will be sold exclusively on Onia.com.
As for the rest of the company's goal for 2018, they have launched have launched multiple categories already including cashmere, knits, shoes, dopp kits, travel bags, and hats, in addition to expanding their women's lounge offerings and graphic tees. Their next target is potentially expanding into the home category.
Photos: courtesy of Purple PR