As a study in disconnect, Paris's haute couture fashion week -- which came to a close on Thursday -- is hard to beat. The outside world might be suffering economic austerity, or the fear of Islamist attacks, or simply a winter to chill the bones.
But inside the warm, gilded bubble offered to the jet set designer crowd, a springtime fantasy was stage-managed to the smallest detail that banished anything resembling real-world woes.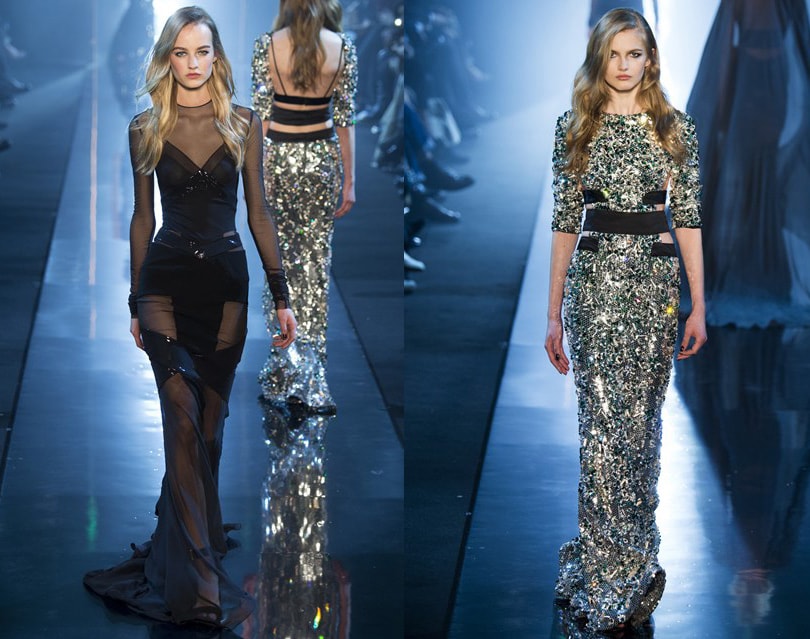 Women with perfect noses and similar-though-exclusive handbags glided into privatised palaces and museums to cast their long-lashed eyes over handsewn outfits each costing as much as a German-made saloon car.
Those with winter fur coats had to check them before entering heated spaces decked out as tropical gardens, or spaceships, or drawing rooms of princess-grade elegance. But all kept with them an aura of privilege, sometimes reinforced by a bodyguard or two.
The trends?
The designers pride themselves on originality, of course, but a couple of themes did recur. The main one was flower power. Flowers popped up in many shows (literally in the case of Chanel, where mechanical blooms opened in the middle of the circular catwalk) and on so many garments there were floral prints and abstracts.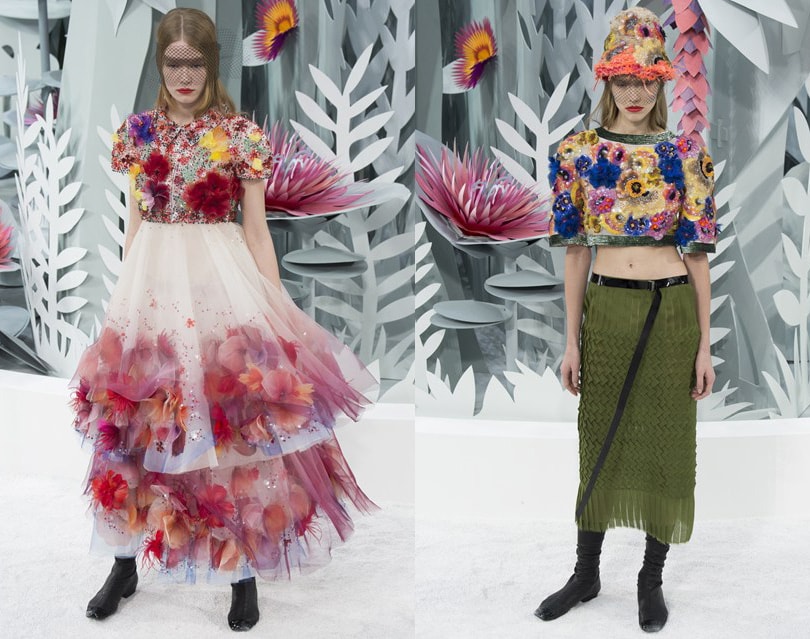 And then there was Naomi Campbell, dressed up as a bouquet herself at the end of a wedding-styled parade. Other looks of note were the bare midriff (Chanel), 1960s "Barbarella" colourful catsuits and fluo boots (Dior), and Gaultier's "bipolar" cuts throwing two styles together into one outfit.
Any firsts?
Alexandre Vauthier, a 43-year-old French designer who counts Rihanna and Beyonce among his fans, put on his first haute couture show since winning the right to bear the label, jealously guarded by the French government and handed out to just 14 fashion houses.
For Jean Paul Gaultier, it was his first couture show since announcing last season that he was giving up on his 38 years of ready-to-wear garments to concentrate on this elite end of the market.
This is a realm where imagination rules. Thus there was a dark and tropical paradise in Elie Saab's show, where a nostalgia for a glamorous Beirut of his childhood -- and of his mother -- came to the fore.
Gustavo Lins put on a production evocative of his native Brazil. And Valentino stood out for a sartorial homage to the folklore of Russia and central Asian republics.
The real world?
With the haute couture events over (at least until the next season's showings in July), Paris's fashion vibe can come down a notch. Taking stock of the situation will be the capital's hoteliers, who noted a "fairly big fall" of up to nine percent in occupancy rates in January because of the Islamist attacks on Charlie Hebdo and a Jewish supermarket, according to the consulting firm MKG.
Ordinary shoppers, though, will likely see some of the fantasy optimism of the couture creations seeping through into their off-the-rack buys later on this year -- a regular phenomenon that underpins the whole fashion industry. (Marc Burleigh and Anne-Laure Mondesert, AFP)
Images: Vogue