Amsterdam - The Dockers brand launched its first pair of khaki pants back in 1986 in San Francisco, looking to disrupt the strict formal business dress code held by corporate offices. The menswear brand, owned by Levi Strauss & Co, sought to offer men an alternative way of dressing by offering them something more comfortable than the suit they wore five days a week, but also a little more formal than the jeans they wore on the weekends. Enter Dockers iconic khakis. "We basically introduced the whole casual Friday business wear category," says Karen Riley-Grant, Vice President of Global Marketing for Dockers to FashionUnited during a breakfast discussing the brand's latest campaign.
Dockers unveils its latest campaign as it establishes itself as 'The Leaders in Khaki'
Dockers khakis became so popular that they went on to change how men dressed for work for good, helping pave the way for more casual dress codes in the office. However, now more than thirty years after Dockers first launched dress codes at work have changed once more. "It's like they are going in the opposite direction now, with people wearing athleisure and jeans to work," notes Janine Chilton-Faust, Vice President of Global Design for Dockers. And Dockers aims to be among the forefront of this shift by launching new products that align with consumers busy and active lifestyles. "We got comfortable and we played it a little too safe for too long," admits Riley-Grant, who notes the brand had become somewhat of a 'Dad' brand.
Which is why the brand is going back to its disruptive, Californian roots and looking to shake up the menswear market once more to establish its position as 'the Leaders in Khaki.' To learn more about Dockers brand repositioning, its latest campaign as well its newest khakis, the Smart 360 Flex, FashionUnited spoke to Riley-Grant and Chilton-Faust.
It's latest khakis, the Smart 360 Flex, which launched this autumn, are made with all the needs of the modern day-man in mind as Dockers looks to reconnect with the younger generation. Made from four-way stretch fabric, which stretches both horizontally and vertically, the new style aims to offer its wearer comfort as well as style which can be worn from work straight into the weekend. In new style comes in a range of fits, with such as slim tapered fit and a jogger style for younger men, as well as more traditional relaxed fits for the older generation. "We are looking to reconnect with that younger generation and not just be known as 'the Dad brand,'" adds Riley-Grant.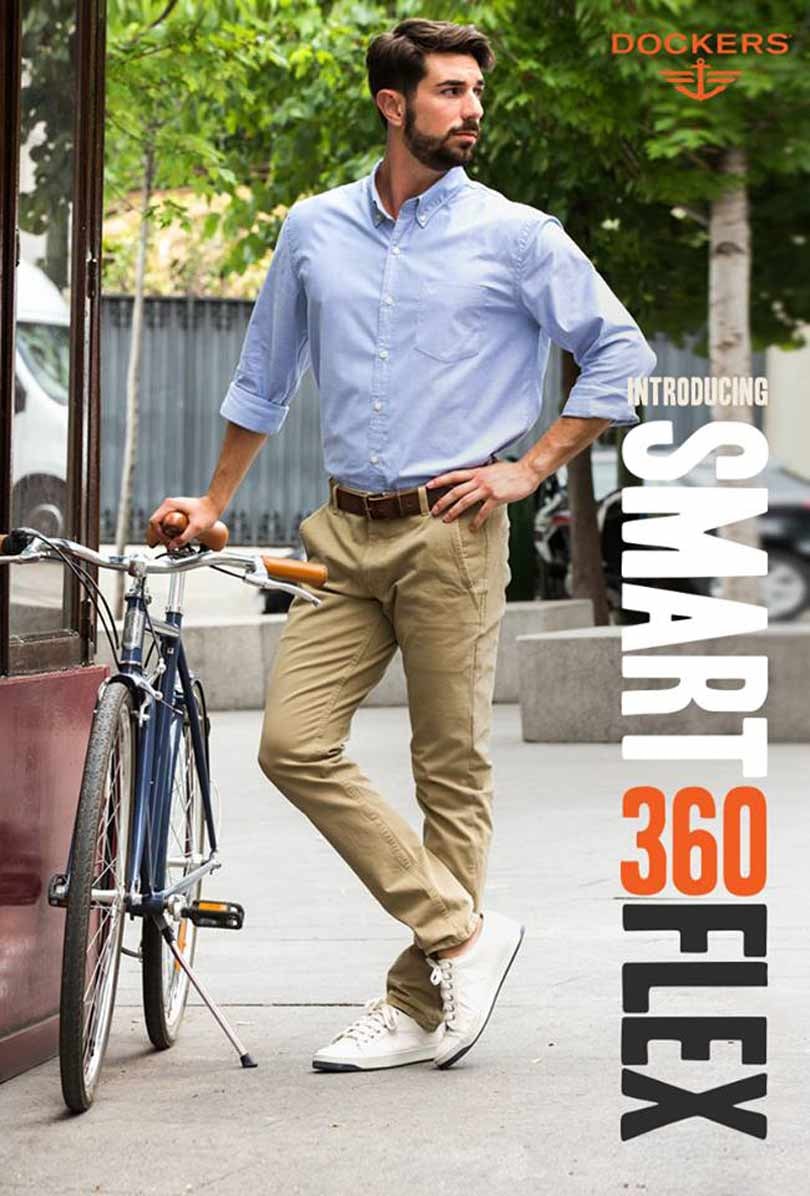 In order to underline its new brand position, Dockers launched its first global campaign in nearly a decade, which features an array of diverse models showcasing the functionality of the collection. In addition, Dockers also launched a new brand platform under its new slogan "Always On," which offers tips and advice on how to be ready for anything, while sharing the Dockers brand with new and loyal fans around the world. The launch of its new campaign comes as the brand continues to focus on strengthening its position in its key markets, which include the US, Spain, France, and Italy while setting its sights on growing in new markets.
Photos: Dockers, AW 17/18 Campaign