London - High Street retailer Topshop, known for its savvy London Fashion Week social media campaigns, has launched a new initiative which aims to utilize customers insights on colour gathered from Pinterest.
Partnering exclusively with the social platform, Topshop's 'Pinterest Palettes' allows users in the UK and US the freedom to create a custom colour palette based on next season's key colours to discover their own colour preference. Customers are invited to create their own personalized colour palette via Topshop.com, which can based on any set of pins for their own boards in order to gain a deeper insight into their own preferences.

Topshop kicks off new London Fashion Week campaign revolving around colour with Pinterest
Topshop has also linked 'Pinterest Palette' to its entire online catalogue of products, so customers can see which items match their palette. Customers in London and New York are also able to create their own colour palette in-store with the help of a personal shopper, which can be printed out to take home. The high street retailer will launch shoppable Pinterest boards and palettes from New York, London, Milan and Paris as the Spring/summer 2016 fashion weeks take place, which will be influenced by everything from on street styles to the cities themselves.
"We recognise that the power of colour on our customer is huge; it has the ability to inspire, excite and drive purchases, so we're delighted that our partnership with Pinterest has enabled us to explore the impact of colour, whilst engaging our customers in the excitement of London Fashion Week," commented Sheena Sauvaire, Global Marketing and Communications director at Topshop. "Pinterest Palettes will allow our global consumer to get a real insight into the colour mood for next season and give them the functionality to shop next season's colour trends, now."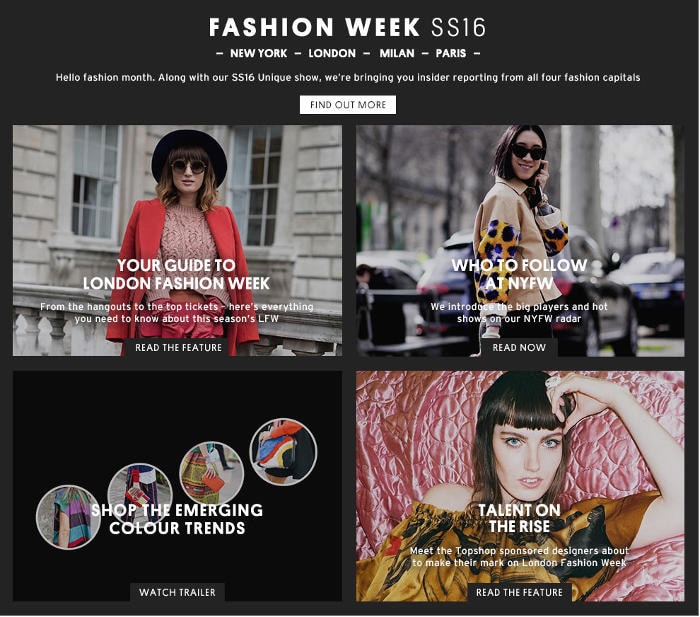 The 'Pinterest Palette' launch coincidences with Topshop's Fashion Week Pop up in its Oxford Flagship store. Customers will be able to watch the Unique SS16 show, streamed live from the Queen Elizabeth II Center and see which key pieces from Topshop's AW15 collection are linked to the evolving colour palettes emerging from the International Fashion Weeks. The Oxford Circus personal shopping team is set to introduce a brand new Colour Appointment service, where expert colour advisors offer styling recommendations tailored to the customer's own, personal colour palette.
"Topshop is taking an innovative approach to partnering with Pinterest by tapping into ways that people are using the platform to discover, save and act on their creative ideas," added Adele Cooper, UK Country Manager at Pinterest. "By launching Pinterest Palettes, Topshop is enabling people to engage with the ideas they have saved in a new way, discover something personal about their colour preferences, and take action with a fun, individualised shopping experience."
The campaign goes live across the UK and USA Wednesday, September 16 and runs until the last day of Paris Fashion Week on October 7.