NYFW: Men's has drawn to a close. For the final day of NYFW: Men's, Perry Ellis, deTROIT, Parke & Ronen, Hickey Freeman, Lucio Castro, Siki Im, and John Varvatos all brought their A game to bring this moment to a close. Of course, their shows were also true to the top 5 trends that were seen throughout the week.
Siki Im, a multidiscplinary design studio, had a collection that showed two major trends happening in menswear: the deconstructed garment and streetwear. The design studio sent down several looks down the runway with not an ounce of formal tailoring, including sweatshirts with embroidered fabrics attached as tails, casual yet high fashion jackets, and roomy pants and shorts that might be a sign that the baggy pants look might be making a comeback.
Brands like Perry Ellis and Hickey Freeman kept it classic American in terms of the types of clothes they were offering, like suits, tailored pants, and blazers, but their aesthetic was far from traditional American. It was quite the relief to see the era of boring old black and white coming to an end. Gone are days when men's formal wear was everyone seeing how many variations and styles they could do of the same neutral colored blazers, suits, and dress shirts.
NYFW:Men's comes to a spectacular close on day 4
For Perry Ellis, who once seemed to be fading into the background of American men's wear due to lacking the edgier more creative or casual style of current men's wear brands, they proved the industry wrong as they sent the crowned gem of their spring/summer '16 season down the runway: a black and white patterned suit modeled by Clark Bockelman, that was reminiscent of a much more strictly constructed Jackson Pollack painting and television static. Perry Ellis was once synonymous with the traditional quality suit, the Perry Ellis brand has proven that their days of traditional classic men's wear is over, and they have evolved to compete with the other more edgy high fashion men's labels.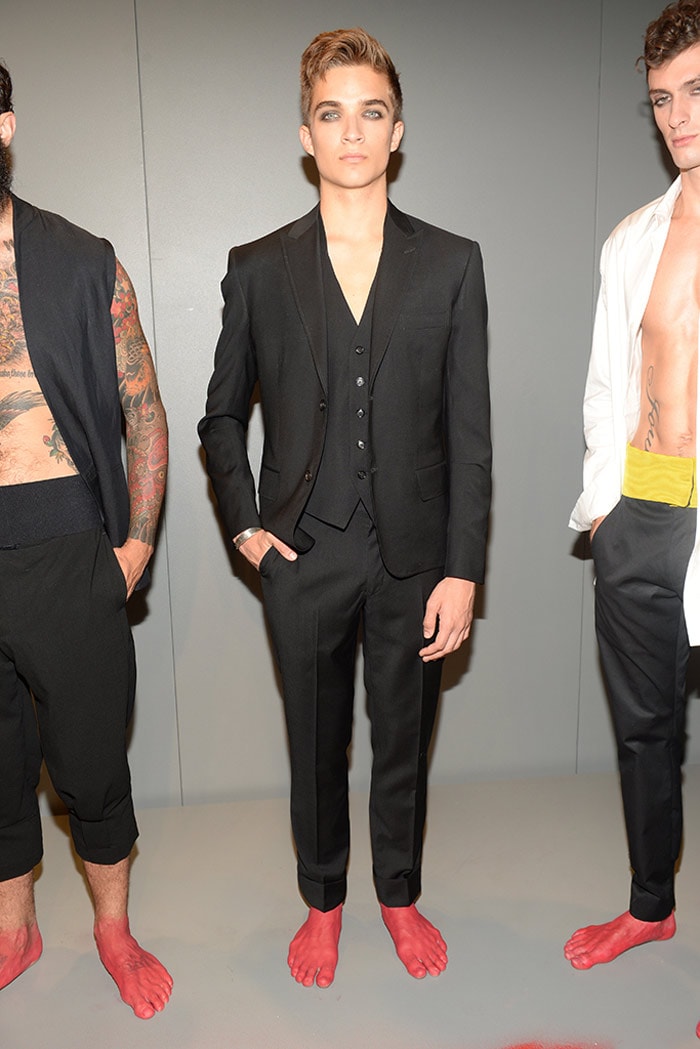 Parke and Ronen was celebrating the seventies with their collection, and as result brought us all those crazy patterns that seventies kids would remember like floral prints and pyschedelic stripes. The line created by Parke Lutter and Ronen Jehezkel is famous for their swim trunks and ensuring that no matter what trends they are following that they never edge toward extreme looks. Their show included many summer ready garments like beach shorts, swim trunks, and patterned shirts that might have taken some inspiration from retirees in Florida, but had a quality high fashion edge to them. While the brand is known for their fitted swim trunks, this season they followed the trend of more relaxed fits and introduced a more comfortable fitting swim trunk style.
Hickey Freeman, who is already known for being edgier and more high-fashion, showed us that color is here to stay in the men's wear market. The brand headed by Creative Director Arnold Brant Silverstone, had a presentation that was filled with a few classic grey suit pieces, but they also had suit separates, with offerings like light blue double breasted blazers, blue and green plaid elbow-patch blazers, and paisley and polka dot ties spicing up their classic with a contemporary twist offerings. While so many men's wear designers have opted for the deconstructed looks, brands like Hickey Freeman and Perry Ellis prove that the classic tailored GQ style look isn't going anywhere, it just needed a bit more flair. Fans of Hickey Freeman could be flocking to their Madison Avenue boutique next spring/summer 2016 for this very dapper collection.
Top 5 trends of NYFW
1. Deconstructed Garments
2. Streetwear
3. Tailored clothing thinking outside of the traditional box
4. Athleisure
5.Patterns galore
One trend still going strong in men's wear, but seemed to be overshadowed by this new idea of the deconstructed garment, is the athleisure trend. Elements of athleisure were present in deTroit's presentation, where they paired loose fitting blazers with baggy gaucho pants, shirts were lightweight and easy fitting, and even the blazers had a certain element of sport to them. The brand is one of many up and coming labels to show at NYFW: Men's in hopes of gaining more exposure.
The first ever inaugural NYFW: Men's has proven to be quite the success. There are already big plans happening for next men's fashion week in January, and this time with designers being more prepared we could be seeing more runway shows versus presentations. Men's wear has finally gotten the standalone place it has long deserved on the fashion calendar.
photo1:deTROIT courtesy of WWD
photo2:Hickey Freeman