There's nothing quite like a good comeback. It gives people the chance to reinvent themselves, and satisfy those consumers who have been nostalgic for their work.
After years on hiatus, New York-based designer Franklin Rowe is back with a hunger for more success.
Some might remember him as the gifted designer who could easily be mistaken for a basketball player, with his imposing figure and tailored suits, like a gentle giant with sewing hands. But Rowe's rise to design success began at a young age.
When he was a boy he would drape clothes on his sisters Barbie dolls and sketch them. His interest in design didn't stop there. He would cut up his mothers old furs and leathers and make new designs out of them too. A neighborhood woman would sew his sketches, and that's how he began to see his clothes come to life.
In just a few years, his sister began selling his sketches to stores in the Bronx for 15 dollars, and by next week his clothes would be in the window.
The moment for him that changed his entire path in life actually happened in biology class. One day he was in class sketching, and rather than reprimand him for not paying attention, his teacher told him that he should pursue fashion design.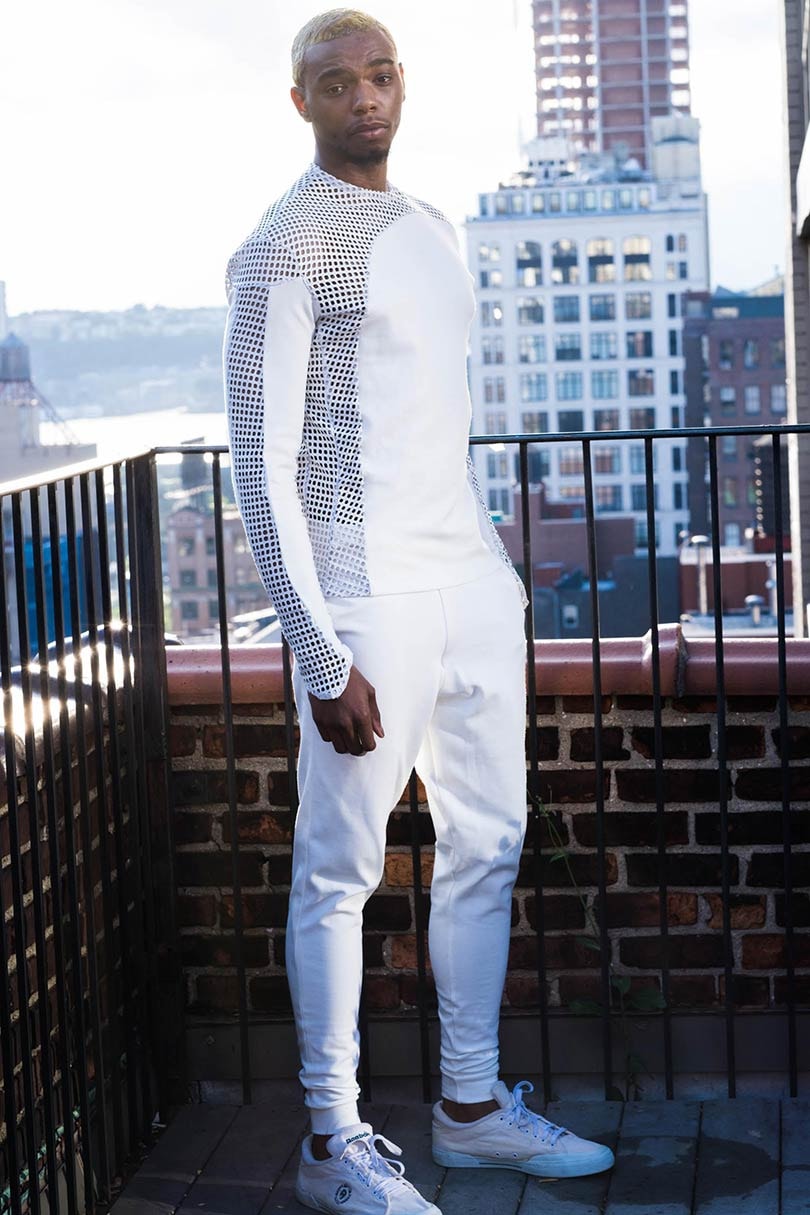 Franklin Rowe is still an unstoppable force after all these years
Rowe then went on to the famed Fiorella H. Laguardia School of Music & Art and Performing Arts, where he honed his art skills. It was all worth it his senior year when he won a scholarship to the Traphagen School of Fashion, an institution that produced such designers as the iconic Mary McFadden and couturier James Galanos.
His education certainly paid off, because Rowe is unique in that he never worked for anyone else in his life. After he graduated Traphagen, he went to interview for one design job, and they told him " Let's be honest, you will just be here for six months to pay some bills, then go do your own line." After that moment, he went off to New Mexico, where he began selling his clothes in boutiques in Santa Fe. He then returned to New York and began selling in boutiques here, and also winning accolades for his work. When he won Hennessy Cognac's Designer of the Year Award, he was catapulted to the next level.
While many designers are often wrapped up in specific design philosphies, Rowe simply says "What I do is beautiful clothes. I have something to say for men, women, plus-size and even children."
As his clothes gradually made it to boutiques all throughout the East Coast, the life changing moment for him came when he was approached by music legend Grace Jones. She began wearing his pieces for album covers and TV shows, which lead to other artists approaching him to dress them for their album covers and costuming for TV show series like "One Life to Live." He credits Jones with giving him his education in leather, due to the opulent leather pieces he created for her.
You could call him a lucky man, or just well connected. The next big moment for him after Grace Jones came when his brother, who used to install luxury furniture for celebrities, helped him put in a bid to dress Debbie Harry. The pink and green flounce skirt dress he made her led to his first international presence, as it was seen by people across the globe.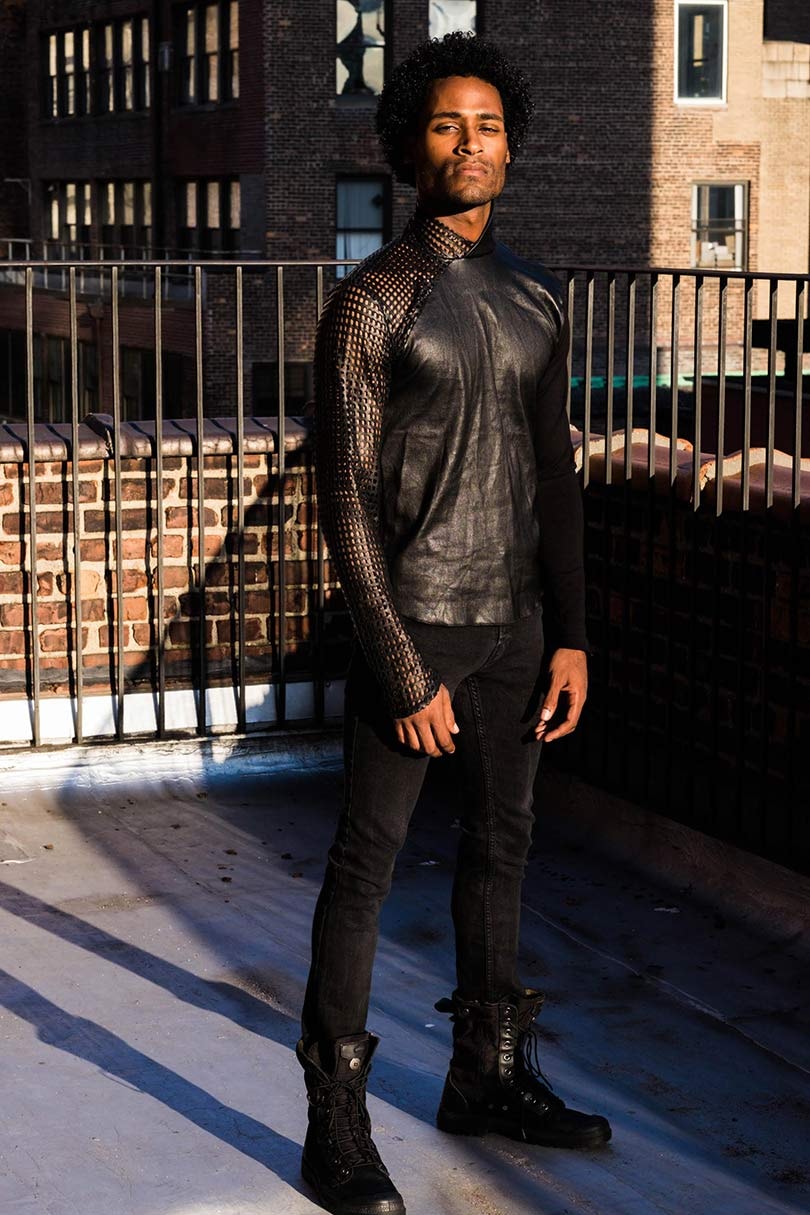 In the late 90s and early 00s, his pieces became staple parts of the wardrobes of prominent Black celebrities including Queen Latifah, Mary J. Blige, Chris Webber of the Washington Wizards, Sheryl Lee Ralph, Keith David and Boris Kodjoe.

Unfortunately, Rowe's burgeoning fashion career was delayed by a head on collision that resulted in severe injuries that stopped him from working for six years.The next great tragedy in his life came when his mother passed away during that same time. While he was undergoing physical therapy and trying to regain his health and strength he kept telling himself "I am going to go back to design."

After endless hours of physical rehab, nine surgeries and a hip replacement, he moved to Long Island and started making patterns again.

By 2012, he made a triumphant return at New York Fashion Week.

Once his niece put him on Facebook, he got to see how much positive response their was to his return to the fashion scene.

Currently, Rowe is working on an affordable women's line where everything will be under 200 dollars, in addition to a menswear line and a children's line. He's also working on developing an e-commerce store through shopify.

As he always has, Rowe wants to keep everything edgy, but wearable.

"I can't fathom doing simplistic, boring clothing," he says. "My dad left when I was young, and he always told me be the best, so I can't imagine doing anything but the finest of clothing."

As one of the few Black designers who has been in the industry for this long, he believes that now is the time for him and fellow Black designers to go above and beyond like they never have before.

"Being a Black designer, no matter how much I say my clothes are for everybody, it's time to drive that point home more than ever," he says. "Under this new government, it's time for us to be more driven than we ever have. This administration doesn't like the words poor, Muslim or women, and it's up to us to use fashion to make an impact. If we don't do something to help change the world now, we'll all be left behind."

As for when he'll retire, "When I have nothing left to say," he says.

photo1: via Facebook
photos 2 & 3: © ArtWorks™ Fashion Showroom // Photographer: Cierra Artis