One more study confirms: while good old brick and mortar shopping is not going anywhere, Americans are increasingly using other means to buy gifts for friends and family during the holiday season. A survey of 1,000 US adults conducted by Citi Retail Services revealed 57 percent of consumers are planning on using their computers to shop in addition to rushing to the mall. A sizable 42 percent of respondents intend to do the same via mobile devices such as smartphones and tablets, and 13 percent will turn to virtual assistants such as Alexa or Siri. 'Tis the season to be high-tech.
"What we're seeing is that technology is altogether reshaping the holiday shopping season", said Leslie McNamara, Chief Marketing Officer at Citi Retail Services, in a statement. "For retailers, this means rethinking their marketing strategy to encompass a robust strategy -- including voice technology -- to reach consumers in their evolving channel of choice". Echoing what experts said at the last IAF World Fashion Convention, the study recommends retailers to give due importance to voice-driven search, as Adobe predicts smart speaker ownership to increase from 32 percent last August to 48 percent after this holiday season.
Older consumers more prone to using voice assistants to shop
While previous surveys demonstrated that Millennials are just as prone to do their holiday shopping in physical stores as older generations, Citi's study smashed the opposite stereotype: Generation X actually takes the lead when it comes to shopping with the aid of voice assistants (22 percent), surpassing Millennials at 17 percent. In addition, 53 percent of surveyed Gen Xers said they intend to use their laptop or computer to shop for the holidays. It seems the only difference between generations is that the young feel more comfortable shopping with a smartphone: 55 percent of Millennials plan on buying their gifts that way.
Most US consumers start their holiday shopping early
Similarly to other studies published this week, Citi Retail Services inquired surveyors about when they intend to start shopping, and how much money they think they'll spend. Once again, it was revealed that a significant amount (69 percent) of Americans kick off their holiday shopping before or on Black Friday. Millennials and Gen Xers are the most prone to start early (74 and 77 percent, respectively) while 40 percent of Baby Boomers prefer to ditch the Black Friday frenzy and do the bulk of their shopping after that. As for spending, good news for US retailers: 73 percent of respondents said they will spend more this year than they did in 2017.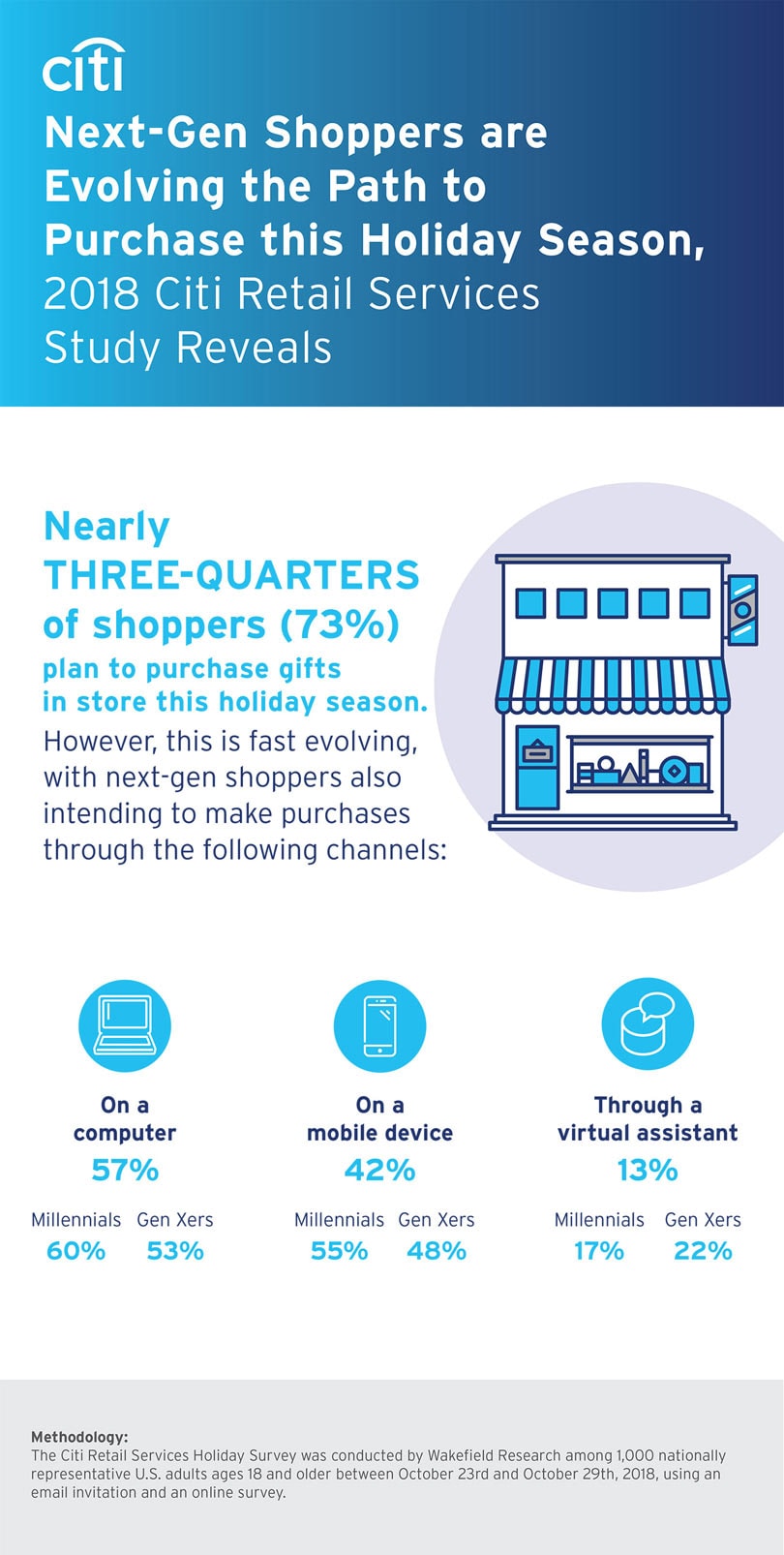 Photo: Pixabay, courtesy of Citi Retail Services. Video courtesy of Amazon