Mackage has taken their talents and stylish outerwear uptown to Madison Avenue. The label famous for their chic and edgy outerwear has opened a pop-up shop on the Upper East Side. The store had its "soft opening" on Wednesday, October 7, after several weeks of trying to get the layout of the store to near perfection.
They originally planned for an opening of October 1, but when you venture inside of the store you will see that the delay was very much worth it. Upon entering the store, men's offerings are found on the left side and women's offerings on the right side neatly arranged with meticulous attention. While it is only a pop-up shop, the store carries all of the fall/winter 2015 products that the brand is carrying in store.
Some of the outerwear offerings include the Grayson pebble leather coat for 1095 dollars, the Alexus wool coat for 490 dollars, the Mai double-face long wool coat for 750 dollars in blue grey, and the Kaylina raccoon fur collar puffer coat for 795 dollars.
The back center wall of the store contains Mackage's accessories, a category the company is currently working on expanding. The accessory offerings include the Cody shoulder bag for 350 dollars, the Derry hobo bag for 495 dollars, and the Aggie tote for 350 dollars.
This pop-up shop is Macakage's attempt at testing the waters for how their business will do on the Upper East Side. "We did this [pop-up] to see how the product sells around here," said Lisa Ganton, General Manager of the store. "Eventually, if it does well we'd like to open a full scale boutique."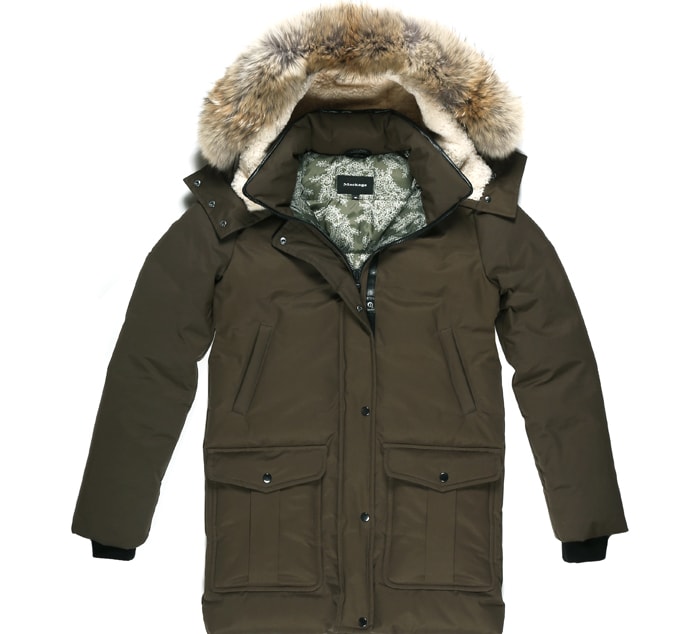 While it is too early for the store to be naming best sellers and sales figures, customers have slowly begun trickling in wondering what's going on inside of the store. Traffic was slow for the first few days of the store due to weather, but it is steadily picking up.

In addition to their pop-up shop, Mackage has also collaborated with chic Parisian brand Paul & Joe for a capsule collection. The collection offers 2 women's styles and 1 men's style. The three offerings are the women's Sabra for 1050 dollars, the women's Kaley for 895 dollars, and the men's Deni for 895 dollars. The women's Kaley coat is the epitome of outerwear opulence with a black sheepskin fur inside and a black raccoon fur trim. The pieces also feature Paul & Joe's signature printed lining.

Mackage's pop up shop is open Monday - Saturday 10 a.m. to 7 p.m, and Sunday 11 a.m. - 6 p.m. The store is located at 1122 Madison Avenue between 83rd and 84th Streets.

Photos: Courtesy of HL Group