Tmall, the e-commerce platform of Chinese internet giant Alibaba, is launching an official online flagship store of Swedish fashion brand Monki today, which will be accessible at monki.tmall.com.
"This is the beginning of a great collaboration between Monki and Tmall," said Lea Rytz Goldman, Monki's managing director, in a press release. "It is a fantastic way for us to respond to the appreciation we get from our Chinese fans and make Monki fashion available everywhere, for everyone in China."
The H&M brand opened its first concept store in China in 2010 and has since expand rapidly, operating 37 Monki boutiques in mainland China and Hong Kong till date.
"Tmall is always looking for young and vibrant brands like Monki to come on our platform and to make them accessible to the vast amount of consumers across our China retail marketplaces," said Liu Xiuyun, general manager for fashion on Tmall.com. "With the high demand for quality, on-trend and iconic fashion goods from Chinese consumers on Tmall, we are glad to be working with Monki in gaining broader access to their fans across China by leveraging data capabilities and China market knowledge."
Monki was founded in 2006 as a fashion brand that mixes Scandinavian cool with creative street style. Today, the brand has over 100 stores in twelve countries in Europe and Asia in addition to an online store that delivers to 18 countries in Europe.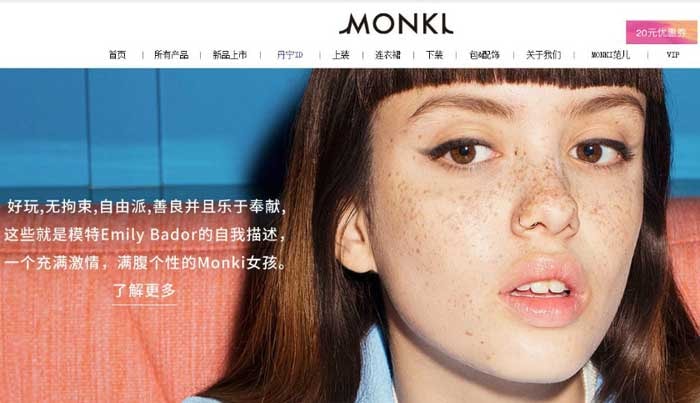 With Tmall and taobao.com, a niche marketplace with products from around the world, Alibaba will continue to build up channels for international brands and merchants to sell their products online to Chinese consumers. "We are going to build our businesses around the two brands, in order to raise their awareness among customers and offer optimal user experience," confirmed Alibaba CEO Daniel Zhang when revealing the company's expansion plans for 2016 at the beginning of the year.