The concept of the virtual fitting room, a digital shopping experience to aid consumers to 'try before you buy' is finally becoming reality. Developers ranging from tech start-ups to billion dollar platforms have been providing technology solutions for retail channels for many years, but to date none of the platforms have taken off with huge commercial promise.
Many brands have been slow to uptake the technology, which in most cases requires their websites to be optimized to a third party software, or virtual dressing room, which are then integrated into their e-commerce platforms.
Luxury brands embrace technology in difference ways
Luxury brands especially have eschewed virtual technology, preferring to differentiate themselves with higher levels of personalised service and in-store experiences. Until New York fashion week, that is.
NYFW designer Rebecca Minkoff teamed up with Zeekit, a B2C mobile app that is promising the most advanced virtual fitting room for consumers and retailers alike. The company, which raised 9 million dollars in a Series A round funding, was unveiled during New York Fashion Week through a partnership with Minkoff.
Customers can view products, virtually try them on and share with friends
Customers could view runway styles either on-site at the Rebecca Minkoff show, online at the Rebecca Minkoff website, or through the Zeekit app to be able to tap the product, virtually try it on, share it with friends and purchase it.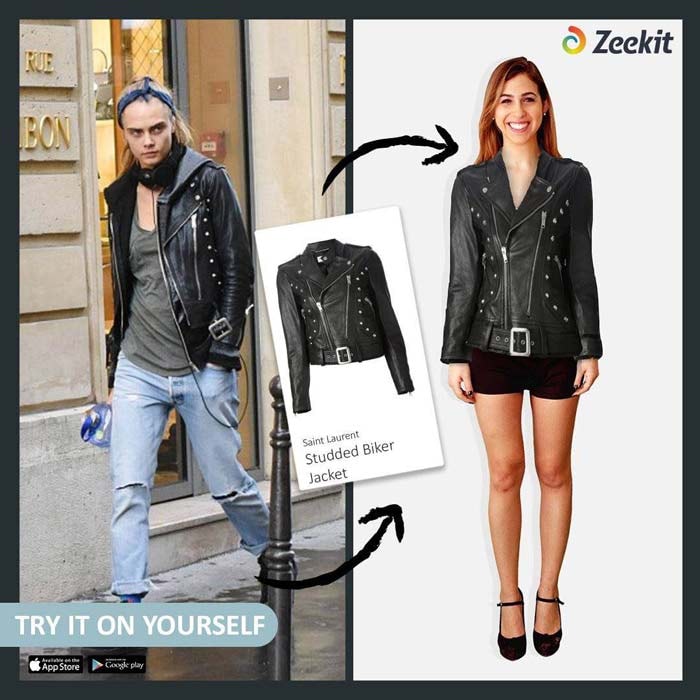 The user is required to upload a full-body photo in order to browse products online, in print or in store and via technology is able to see how it looks and fits on their actual body. The item can then be mixed and matched with fashions from different retailers in their virtual closet, shared with friends or purchased through a link in the app.
"We're creating a new shopping experience by making both online and in-store shopping fun, social, simple and risk-free," said Yael Vizel, Zeekit chief executive officer and co-founder, who was inspired to create Zeekit by mapping technologies used for intelligence missions as a Captain in the Israeli Air Force. "Our first-to-market technology is unlike any other visualization technology that exists in the market."
The aim is for retailers to make their product catalogues available
Zeekit is hoping retailers and brands will incorporate the Zeekit button in their online, mobile and physical stores to give shoppers the ability to try on their entire catalog of products, virtually.

"At Rebecca Minkoff, the integration of technology and style is paramount," said Uri Minkoff, CEO and Co-Founder of Rebecca Minkoff. "Our partnership with Zeekit developed very organically and was a prime example of the best kind of integration. To be able to virtually try on a garment and give our girl the chance to access the feel of our product with immediacy – technology like that is made for the Rebecca Minkoff girl – for the millennial consumer."

M-commerce sales are expected to reach 142 billion dollars this year in the US alone, with nearly one third of sales placed from a mobile phone. Zeekit is hoping to revolutionize the way consumers browse, share and shop from their mobile devices using an advanced virtual fitting room app. While The technology may be advanced, it will remain to be seen if it will also take off.

Photo credit: Zeekit Facebook

www.zeekit.co