An emerging luxury fashion rental service located in New York's Tribeca neighborhood is breaking new ground.
The plush studio features a stunning inventory of dresses imported from throughout the world - from a variety of sought-after designers including Oscar de la Renta, Carolina Herrera and Stella McCartney.
The company was started by Norwegian born Silje Lübbe, who previously worked as a stylist and fashion buyer in several cities - including Kuwait and Dubai. Her background and time in the Middle East has shaped her approach to her business.
"There's nothing quite like the eveningwear market in the Middle East," Lübbe tells FashionUnited during an interview at the boutique. "Not only is wealth abundant, but the sartorial expectations for formal occasions are peak. There's really no such thing as a 'casual' affair there, which ultimately creates a wider demand for luxury evening wear, allowing department store buyers to be more creative and take greater risks."
She adds, "It takes a lot of experience to take risks in the U.S.' current retail environment. Women in the U.S. are less likely to invest in over-the-top, extra-ordinary styles, hence our decision to rent them out, giving access to these items for limited time periods."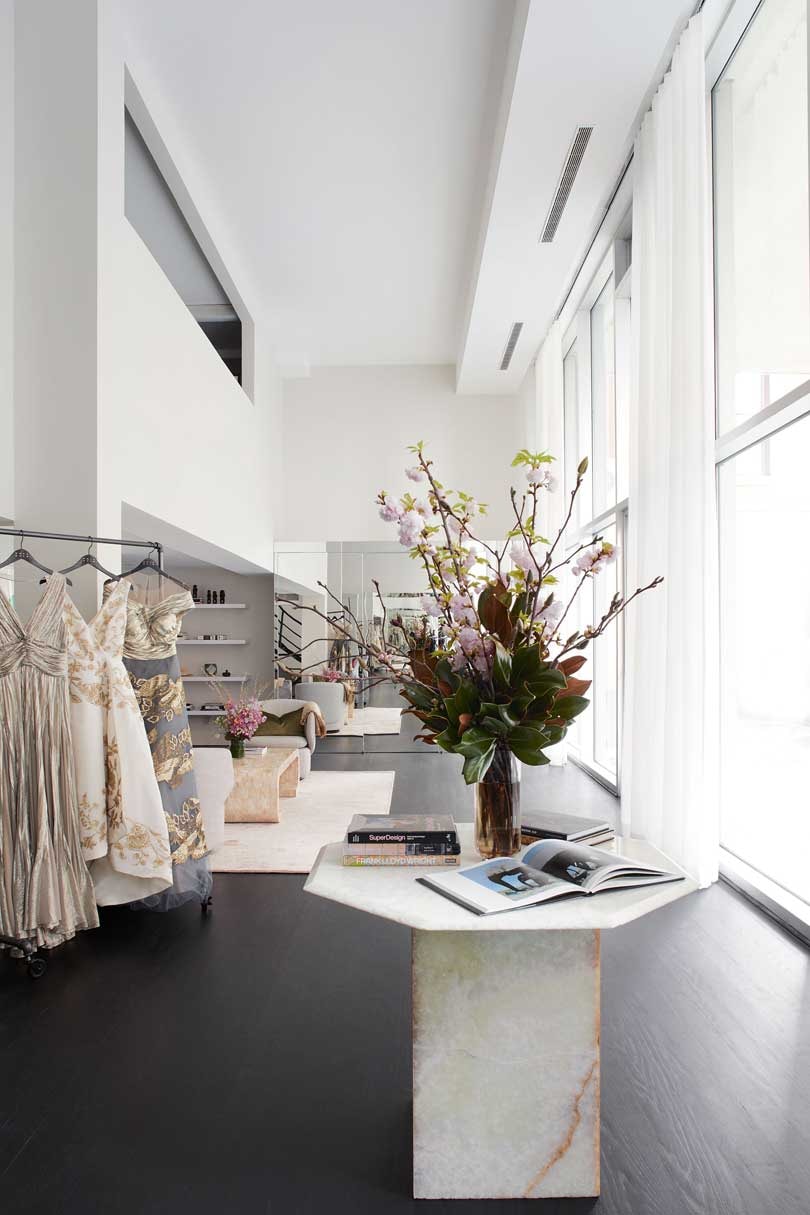 Many of her previous clients living in the region sought pieces above sample sizes - leading her to ensure a wide range of sizes are among the shop's offerings. She also frequently catered to those seeking an item to wear for an event or significant family function but not looking to wear the look more than once.
"We believe the excitement of dressing up should not be restricted to a specific size range, so we're working on sourcing exceptional pieces for all women," she notes. "The plus-size market specifically has been neglected by luxury fashion for so long, which to me is such a shame. In all my 12 plus years as a buyer, I have stood by the belief that these customers are extremely valuable and moreover, just as deserving as anyone else."
Though Nova Octo had a soft opening just a few months ago, the store has already built up an extensive clientele through word of mouth.
Size-inclusive fashion rental
For those unable to make a stop at the Manhattan location, rentals are displayed on NovaOcto.com. Whatever the method of borrowing - it will serve as a good deed. Fifteen percent of proceeds from each rental are donated to a charitable cause ranging from environmental issues to wildlife preservation. Among the organizations partnered with the fashion house are the Elephant Crisis Fund and Global Green.

While the brand is primarily an online service, Lübbe finds it important to maintain a location where in-person interactions can take place.

"We are first and foremost an e-commerce company, but as a retailer for many years, I think it's important to have a location where clients can try on our styles in a beautiful space that reflects a luxury experience," she shares. "Renting such high-end items is still new to a lot of people and I think that the showroom also gives our customers a sense of security."

She continues, "Being able to witness the excitement of our clients when they realize they're accessing items that would be otherwise inaccessible has been truly amazing, and shows us that American women really do love dressing up."

Photo credit: Courtesy of the brand.