Consumers looking to celebrate Mickey Mouse's 90th anniversary have yet another collection to choose from. American luxury goods brand Shinola is the latest to collaborate with Disney in honor of the beloved rodent. Launched last week, its "Mickey Classics Collection" features limited-edition timepieces and leather goods, as well as wall clocks, journals and audio equipment. Prices range from 28 US dollars for a journal to 2,500 US dollars for a turntable.
"We are proud to join Disney in honoring the magic of Mickey Mouse while also commemorating the five-year anniversary of our flagship watch, the Runwell", said Shannon Washburn, President of Shinola, in a statement.
The collection includes five Runwell watches adorned with exclusive illustrations by Disney's character artist Jeff Shelly. Each illustration is inspired by an iconic Mickey Mouse moment such as his appearances in Plane Crazy and Steamboat Willie.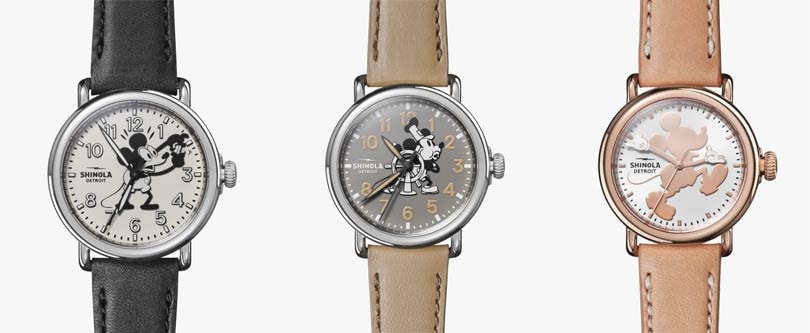 Only 90 timepieces per style were launched, so interested shoppers have to hurry. They are priced between 800 and 2,000 US dollars. Those who do manage to get their hands on one of the watches will also receive a framed original sketch and a special-edition Shinola sketchbook with a "How to Draw Mickey" instructional booklet.
Disney has teamed up with a number of fashion and accessories brands in the last few months to celebrate Mickey Mouse's 90 years of existence, including Vans, Rag & Bone, Gigi Burris, Berschka and Havaianas.
Photos: courtesy of Shinola