General data
The global apparel market is valued at 3 trillion dollars, 3,000 billion, and accounts for 2 percent of the world's Gross Domestic Product (GDP). The fashion industry includes many sub industries, such as menswear, womenswear and sportswear.
The womenswear industry is valued at 621 billion dollars
The menswear industry is valued at 402 billion dollars
The retail value of the luxury goods market is 339.4 billion dollars
Childrenswear had a global retail value of 186 billion dollars
Sports footwear is valued at 90.4 billion dollars
The bridalwear industry is valued at 57 billion dollars
Apparel manufacturing -
number of people employed
14.5 million in 1990
13.1 million in 1995
13.0 million in 2000
24.8 million in 2014
Textiles -
number of people employed
19.7 million in 1990
16.8 million in 1995
13.5 million in 2000
33.0 million in 2014
Textiles & Clothing -
number of people employed
34.2 million in 1990
29.9 million in 1995
26.5 million in 2000
57.8 million in 2014
To cater to the large, 3,000 billion, textile and garment industry new companies are entering the market daily. Yet, most of these companies remain rather unknown. Worldwide only a few large fashion players exist.
Currently US-based athleisure- and lifestyle brand Nike is the largest fashion company worldwide. Nike had 2015 revenues of 30.6 billion and has a market value of nearly a 105 billion dollars. Nike offers its products worldwide and its largest markets are the United States, accounting for 46 percent of the total revenues, and Western Europe with a share 19 percent. Most of Nike's income, a near 94 percent, comes from the Nike brand. The remaining 6 percent comes from Converse, which is a subsidiary of Nike. The brand's best selling division is footwear, accounting for 64 percent of Nike's income.
Spanish fast-fashion giant Inditex is with a market value of nearly a 104 dollars close to Nike and is therefore the second largest fashion company worldwide. This company owns brands such as Zara, Pull&Bear and Stradivarius. Inditex' 2015 annual revenue was around 24 billion dollars. With stores is every major city worldwide, the company is able to reach lots of fans.
In third place comes LVMH, Louis Vuitton Moët Hennessy, a French luxury conglomerate. LVMH's annual revenues reached 40.7 billion dollars in 2015 and the company is currently valued around 87 billion dollars. The company operates a chain of independent stores and shops-in-shops for fashion brands such as Louis Vuitton, Fendi and Dior. LVMH does not only stand for high-end fashion, but provides for every aspect of a luxury lifestyle, from champagne (Moët) to sailing yachts (Royal Van Lent).
The fourth largest fashion company is US-based TJX with a market value of 54.5 billion dollars and 2015 annual sales of 30.9 billion dollars. TJX operates the majority of its stores in the United States and is best known for its fast-fashion brand T.J. Maxx. Its US sales account for 86 percent, with 26.7 billion dollars. The company is also active on the Canadian and European market with its brands T.K. Maxx, HomeSense, Winners and Marshalls.
Rounding off the global Top 5 is swedish fast-fashion giant H&M. H&M reached annual net sales of 25.8 billion dollars in 2015, which has set its current market value to 48.3 billion dollars. Currently, Germany is the the company's biggest market and accounts for 17 percent of H&M's total sales. Other large European markets are the United Kingdom with 8 percent, France with 6.5 percent and Sweden with 4.5 percent. The United States (12 percent) and China (5 percents) are H&M's largest international markets.
On sixth place in the Global Top 10 of Largest Fashion Companies is the french luxury brand Hermès, with a market value of 37 billion dollar and annual revenues of 5.5 billion dollar. Place 7 in the Top 10 is held by privately held luxury company Montres Tudor, the parent company of Rolex, which has a market value 34.9 billion dollars and annual sales of 8.3 billion dollars. Fashion jewelry conglomerate Compagnie Financière Richemont follows with a market value of 33.7 billion dollars and annual sales of 11.8 billion dollars. Other large companies in the Top 10 are luxury brands Dior and Chanel with market values of respectively 32.9 billion dollars and 32.6 billion dollars. Dior has annual sales of 2 billion dollars compared to 7.5 billion dollars at Chanel. Montres Tudor and Chanel are the only privately held fashion companies in the Global Top 10 of Largest Fashion Companies and their value is an estimated 30 percent than comparable publicly traded companies because it is harder to sell a share of these companies.
Total trade of clothing and textiles: 726 billion dollars
The most traded apparel and textile products are non-knit women's suits, knit sweaters, knit T-shirts and non-knit men's suits.
Non-knit women's suits: 54.6 billion dollars, 7.5 percent
Knit sweaters: 52.8 billion dollars, 7.3 percent
Non-knit men's suits: 43.4 billion dollars, 6 percent
Knit T-shirts: 36.9 billion dollars, 5.1 percent
Knit Women's suits: Knit women's suits: 28.2 billion dollars, 3.9 percent
Light rubberized knitted fabric: 23.9 billion dollars, 3.3 percent
Synthetic filament yarn woven fabric: 20.9 billion dollars, 2.9 percent
Raw cotton: 18.9 billion dollars, 2.6 percent
Non-retail synthetic yarn: 18.8 billion dollars, 2.6 percent
China is the largest exporter of apparel in the world, it has exported for 265 billion dollars in 2014. India is the second largest exporter with 38.7 billion dollars of clothing exports. Other large exports of apparel and textiles are Italy with 32.7 billion dollars, Turkey with 30.4 billion dollars and Bangladesh with 28 billion dollars. The Top 5 largest exporters therefore supply 54.4 percent of the total worldwide apparel trade, with China single-handedly taking on 36.5 percent.
Total trade of footwear and headwear: 139 billion dollar
Over 40 percent of all traded footwear are leather footwear. Other products that are traded in large amounts are rubber footwear and textile footwear.
Leather footwear: 56.7 billion dollars, 41 percent
Rubber footwear: 30.2 billion dollars, 22 percent
Textile footwear: 22.3 billion dollars, 16 percent
Footwear parts: 7.77 billion dollars, 5.6 percent
Knitted hats: 4.8 billion dollars, 3.3 percent
Other footwear: 3.9 billion dollars, 2.8 percent
Other headwear: 2.82 billion dollars. 2 percent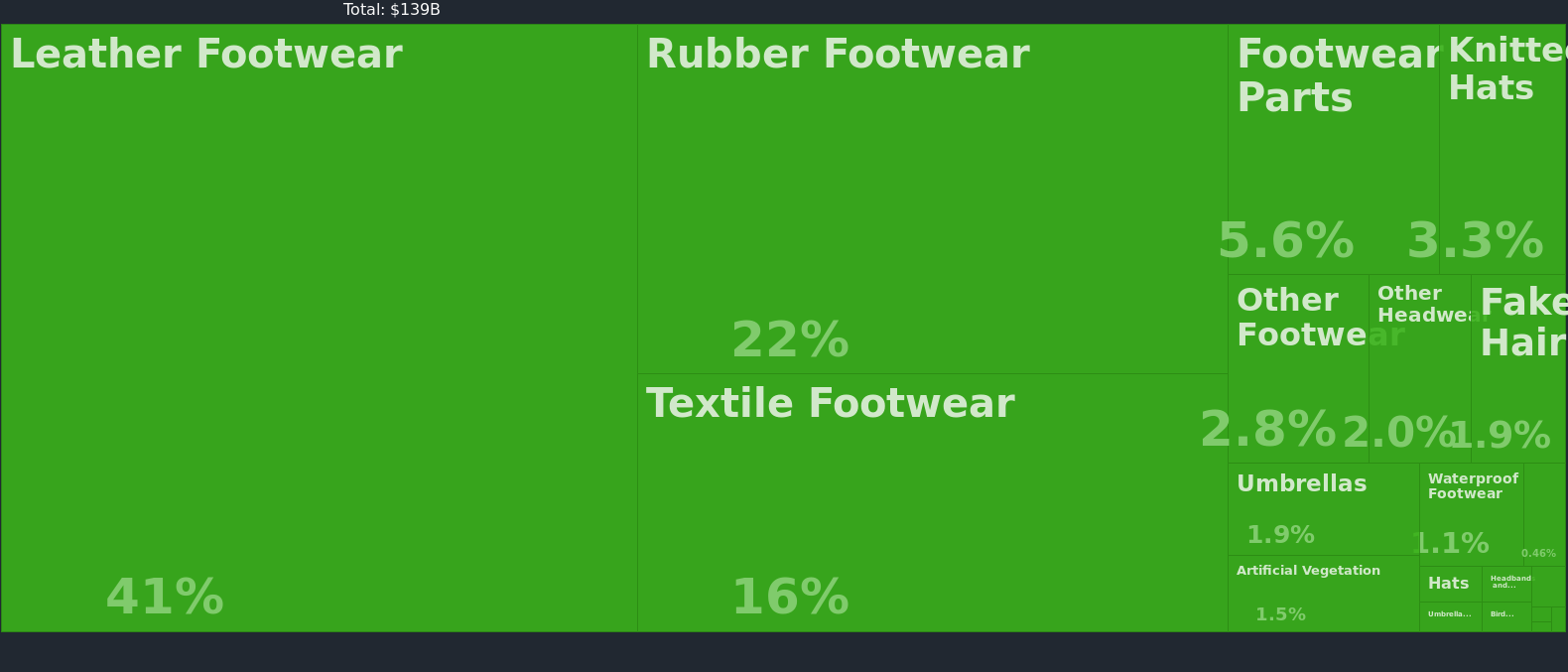 Also in footwear and headwear, China accounts for the largest share of all export with 71.1 billion dollars. Therefore it account for over 50 percent of the total world trade. Vietnam and Italy are the second and third largest exports of footwear and headwear, exporting respectively 13.6 billion dollars and 12 billion. The top 3 exporters account for 69.6 percent of the total exports in this segment. Rounding off the Top 5 largest exporting regions of footwear and headwear are Indonesia with exports of 5.59 billion dollars and Germany with 3.78 billion dollars.
General data
United States
Population: 323.2 million
Labor force: 161 million
Unemployment rate: 6.2%
GDP per capita (PPP): $ 54,629

Domestic market value of fashion: $ 385.7 billion
Employment in fashion: 1.8 million
New York: Fashion capital
New York City population: 8.55 million
New York City labor force: 4.2 million
Employment in fashion-related industries (NYC only): 185,000
Wages in the fashion industry (NYC only): 11 billion dollars
Fashion industry tax revenue (NYC only): 2 billion dollars
How many pieces of clothing are sold world wide? How many people work in the international fashion industry? What is the total sales of clothing in the world? This is the FashionUnited page with Facts and Figures about the global and US fashion industry. For factu and figures of the fashion industry in other countries and regions, refer to the links below.
The International fashion market is a leading industry well known for key players, such as Inditex, LVMH, H&M, Nike, VF Corporation, Richemont, Adidas, Fast Retailing, Abercrombie & Fitch, Prada, Gap, Dior, Urban Outfitters, Burberry.
For the real-time market value and other stock information on these companies, refer to the
FashionUnited Top 100
.
The fashion industry statistics pages are a product of FashionUnited Business Intelligence. For other data, such as the FashionUnited Top 100, the FashionUnited Facebook Index and the List of Richestest People in Fashion, refer to the FashionUnited Business Intelligence page.